Readers of this blog know that I often discuss my passions including music, travel, surfing, and public speaking.
You may have figured out that I'm a list maker. I've shared that I keep a spreadsheet of all the live concerts I've seen since 1975, now up to 550 shows. Obsessive for sure, but I'm glad I've done it so I can recall the dates of the shows.
You might remember the time I visited my 50th state, North Dakota, when I delivered a talk in Fargo at the American Advertising Federation of North Dakota on a snowy December day in 2010.
Speaking on all seven continents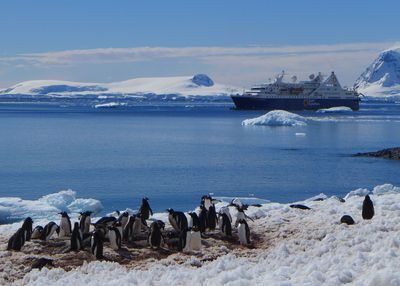 I reached a milestone last month that I've wanted for several years. I have now delivered speeches on all seven continents.
When I was in Antarctica in December, I delivered a talk on the Quark Expeditions Ocean Diamond: When You Return North: Sharing your experiences and becoming an Antarctica Ambassador via social media.
I shared with my fellow explorers how, as one of a tiny percentage of people in the world who have personally discovered the 7th Continent, we understand the critical importance of conserving the pristine Antarctic environment and its associated ecosystems for future generations. This gives us a unique position to be an Antarctica Ambassador upon returning home.
I talked about how social networks are a great way to showcase interactions with penguins, seals and whales and how we experienced the natural beauty of the water, ice, and land. I argued that each of us can help the Antarctic Continent by becoming a spokesperson for the continent and all it has to offer.
However, with sharing comes an obligation. I talked about the importance of sharing only those images of responsible travel.
All expedition travel companies must adhere to guidelines of International Association of Antarctica Tour Operators. For example, visitors must not feed, touch, or handle birds or seals, or approach or photograph them in ways that cause them to alter their behavior. So any images of animals shared on social media shouldn't show unintended consequences that make it seem like a visitor is violating a guideline.
Now that I am one of the very few people who have presented a talk on all seven continents, I am turning to a new goal. I want to visit 100 countries or territories. I'm at 98 now. It will happen soon!
If you're interested in going to Antarctica...
As I shared in my previous post, Quark Expeditions is offering an additional 5% off any Quark Arctic and Antarctic voyages. The offer is for expeditions booked by 1 June 2014 for expeditions that depart from 1 April 2014 through 1 April 2015. Use Code Mk52
This 5% off is in addition to any other promotions Quark offers, like the $1500 air credit promotion on a selection of Arctic and Antarctic voyages.
I'd like to make it clear that I have no financial interest in people booking arctic or Antarctic travel via the code in this post. I worked with the good people at Quark to be helpful to them and to provide an added incentive to readers who might want to go. It was a life-changing trip for me and sometimes people just need a little push to do something they had always dreamed of.