This has been "GM week" for me. I spent the day at General Motors world headquarters in Detroit on Monday at the invitation of the GM social media communications team. And each day since, I've posted a new video interview that helps tell the story of GM re:invention directly from those involved. (If you have not seen these, do also pay attention to the discussion within the blog comments).
GM CEO Fritz Henderson discusses new marketing
Top GM marketing exec Bob Lutz on effective communication
Christopher Barger on social media communications at GM
Mary Henige of GM on storytelling and humanizing the company
This all happened because I wrote a blog post in June that was critical of General Motors Attention GM: Here are the top 5 marketing ideas for your reinvention. The post received hundreds of tweets and more than 50 comments. But then something remarkable happened. Within mere hours, I was engaged with the social media team at GM. And the candor and human interaction turned me around. I went from a critic to a supporter. Amazing really that a visible critic can become an educated supporter.
I accepted the company's invitation to visit and to learn more about what they are doing. After a week of reflection, I have some observations to share with the marketers and executives at GM.
Humanizing a giant corporation: My biggest takeaway of my GM experience is that the people who work at GM are doing a good job at humanizing the company. The individuals I met are passionate about their work and about the company. They know they have a tough road, but they are invested in the challenge. Watching the videos gives you a good sense of the ways that the company is engaging in a human way. This was an issue I was particularly critical of back in June. However, the company's television ads are not helping (see below).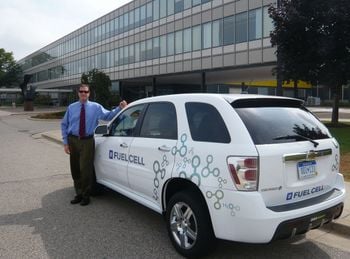 Products: While visiting GM, I drove a Yukon Denali Hybrid SUV as well as a zero-emission, hydrogen-powered Chevrolet Equinox Fuel Cell vehicle. I was also given a tour of the Chevrolet Volt plug-in electric vehicle factory (where they are making early test versions). While the Hydrogen and electric cars are not in the market yet, these new technology vehicles are certainly products that people will want to buy.

Chevrolet VoltAge site: The Volt is not due out for more than a year, but the company knows there is huge interest in a plug-in electric car. The marketing challenge here is to build a broad group of fans for a product that cannot be actually purchased for more than a year. Chevrolet VoltAge is a social network for Volt and electric vehicle enthusiasts to engage with others around the Volt and vehicle electrification issues. This is a great example of brand journalism and a terrific way to keep them interested in the development of a new car through to the time they can buy it.
GM Design Lab blog: I was given a glimpse into the GM design process by Andrew Smith director of advance design at the GM Design Lab. Smith is working on a project for the future called Small Premium. What's interesting is that GM opened the ideas up for public comment via a blog and videos. Where most early design thinking is "top secret," in this case the open discussions are refreshing. In another great example of brand journalism at work, Smith explores ideas like, "What is Premium?" and "In what context can Premium be measured?"
Television advertising: I am not a fan of the new May the Best Car Win 60-day money back guarantee television commercial featuring Chairman Ed Whitacre. In my opinion (and the opinion of commenters on this blog and a bunch of tweets I have seen), Whitacre does not come across as a credible spokesperson. I'd like to see Fritz Henderson doing these ads instead.

Ed Whitacre is no Lee Iacocca. But I have a more fundamental issue with the May the Best Car Win television ads. They seem to be a blatant rip-off of the 1980s Chrysler commercials with chairman Lee Iacocca. Watch one and then the other and you'll see what I mean. The parallels are eerily similar. Big American auto company has a near death experience. They run ads featuring the most senior executive walking around the latest model cars talking about quality. Both ads talk about how great their cars are compared to the competition. Really? Is that the best that your Madison Avenue agency can do? Copy a 1980s playbook? And a poor copy at that?
I'd like to thank Fritz, Bob, Christopher, Mary, Chris, Andrew, and the many other people at GM who tool the time to educate me, and in turn you. I'll be watching, blogging (and hopefully cheering too) as GM continues to make progress.