As regular readers may recall, I was in Antarctica in December and it was one of the most amazing experiences of my life. This is the last of three planned posts about my experience as it relates to marketing and sales. The first two posts are:
How Inbound Marketing got me to Antarctica
Speaking on all seven continents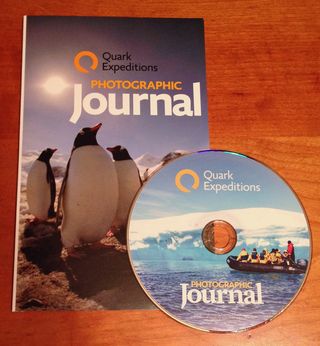 Quark Expeditions Photographic Journal
On our expedition, the Quark Expeditions Ocean Diamond ship carried about 180 passengers and about 140 crew members and expedition staff.
Among the staff were several professional photographers including the amazing Sue Flood, a wildlife photographer, author and filmmaker. Sue produced four films for the BBC and was Associate Producer on the award-winning series The Blue Planet, and also Planet Earth. An personalized copy of Sue's beautiful photography book Cold Places now sits on our living room table.
The photographers onboard the Ocean Diamond delivered lectures during the Drake Passage crossing and in the evenings after we finished exploring each day. They shared how to photograph the amazing wildlife and scenery we were experiencing. They were out with us on the Zodiacs and were with us when we landed to explore. As they shot their own photographs, they were eager to answer questions or offer advice.
Driving Social Sharing
During each night's expedition recap, passengers were encouraged to upload our own photographs to make them part of our expedition's Photographic Journal.
The best of the photos submitted by passengers plus those from the professionals were then collected into a Quark Expeditions Photographic Journal chronicling our voyage which each of us were given on the last day of the expedition.
This is a fascinating marketing move by Quark Expeditions because once we all got home, we had a collection of many hundreds of photos to remember our journey (and perhaps spark the desire to go again). Other expedition outfitters sell this kind of thing. Quark Expeditions sees the value of making it free.
Many of us had "epic" photos included in the disk that had been shot by Quark staff and these could be shared via social media. This, of course, serves as free promotion for Quark Expeditions voyages.
For example, the several shots of me doing my polar plunge that were taken from a Zodiac near the Ocean Diamond were perfect to share on Facebook. Last I checked there were 153 likes and 47 comments on this photo, the most I've ever gotten on a Facebook post. And each is a potential customer for a Quark Expeditions voyage in the future.
If you're interested in going to Antarctica too...
As I shared in my previous post, Quark Expeditions is offering an additional 5% off any Quark Arctic and Antarctic voyages. The offer is for expeditions booked by 1 June 2014 for expeditions that depart from 1 April 2014 through 1 April 2015. Use Code Mk52
This 5% off is in addition to any other promotions Quark offers, like the $1500 air credit promotion on a selection of Arctic and Antarctic voyages.
I'd like to make it clear that I have no financial interest in people booking arctic or Antarctic travel via the code in this post. I worked with the good people at Quark Expeditions to be helpful to them and to provide an added incentive to readers who might want to go on the journey of a lifetime. It was a life-changing adventure for me and sometimes people just need a little push to do something they had always dreamed of.