This is a response to a comment that was left by Matt Gentile, Director Public Relations and Brand Communications for Century 21 Real Estate LLC on my post The one question to ask new marketing & PR detractors.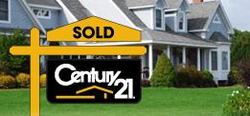 Matt asks: "…as the Director of PR for CENTURY 21, I have been working to implement new media ideas into the marketing / pr mix. What I'd like to see from you and the other prophets of social media publish are the top 10 things I can do immediately that will help me spread the gospel of home ownership and drive brand preference to CENTURY 21… While I don't want to spam everyone, I do want to make sure they have access to our messaging in the channel of their choice should they want to learn more about what CENTURY 21 is thinking on a variety of topics." You can read Matt's entire challenge to me here.
Matt, first, I have three assumptions about your business:
A) I'd say your biggest challenge is that you are a big bunch of local businesses but housed under an international brand. So my ideas will focus on how you can use the power of a recognized name globally yet still be hyper-local for each market.
C) Based on my extensive research, I'd argue that when people begin the process of solving a real-estate problem (buy a house, sell a house, find a rental in the city, earn extra income from a beach house by renting it for a few months, and so on), the vast majority go to the Web first, either via search engines or by a link sent to them by a friend, colleague, or family member.
C) Based on my research, very few people do not choose a real estate agent based on television advertising.
Then I have a clarification about my answer to your challenge.
My ideas and implementing most certainly will be a huge benefit for Century 21. However, it is not as easy as your question implies. The New Rules of Marketing & PR are not about tossing up a few videos onto YouTube or getting some digs pointing to your stuff. You have a tremendous opportunity, but you need to work at it.
Okay. Given that, here are my 10 initiatives for Century 21.
1. Immediately cut back on the insanely expensive TV commercials that you're running and instead plow that money into hiring a large team of journalists (broadcast TV and radio reporters, photojournalists, and print reporters). These people will become a Century 21 editorial team and be charged with the creation of valuable content for you to post on the Web. Given how often I see Century 21 TV ads, I would estimate you could hire at least twenty but possibly as many as one hundred people in your new editorial department just by shifting budget. I call this approach brand journalism.
2. Immediately cut back on your product-centric advertising and communications. When companies prattle on and on about products and services like this TV ad, it just doesn't get through to people who turn such messages off because they are exposed to thousands of ads a day. Based on my research, these efforts are a colossal waste of money. Instead you should be using your team of journalists to create a series of proprietary (but freely shareable with no registration required) information that helps people to solve their problems.
3. You and your team (including the journalists if you go with suggestion #1) must get out of your nice, comfortable offices and meet with your buyer personas. My sense is that much of your communications is product centric. But imagine how different it would be if you knew, in great detail, the sorts of things that your individual buyer personas required (because you and your team interviewed them). You would know how they describe their problems, what words and phrases they use, how they make decisions, what's important (and what isn't).
4. You should meet with and find out as much as you can about people such as:
- People who want to sell a home.
- Younger buyers who want to trade up.
- Older buyers who want to trade down.
- People looking for a flat in the city.
- People looking for an investment property at a ski resort.
- (And all the other perhaps dozens of Century 21 buyer personas.)
5. The Century 21 editorial team would then create compelling content for each buyer persona. The content could include YouTube videos, ebooks, audio podcasts, photo essays, charts, interactive tools and calculators, as well as participate in real estate forums, chat rooms and blogs. You would end up with an online publication that looks much like WSJ.com all about the global real estate market and all pointing to you. How cool is that?
6. This amazing information would serve as you centralized Search Engine Optimization strategy. If you are generating terrific information and solving problems for your buyers, you are using the words and phrases your buyers use. Therefore you will get high search engine rankings. This would also serve as your national media relations strategy as mainstream media would quote from your resources.
7. Once your editorial team has created what is essentially an online publication of information for Century 21, I would want you to localize each bit of Web content. You could give local office managers or even individual go-getter agents the tools to record their own introductions to podcasts or create a blog that points to the central content that is most effective for their particular market.
8. In order to be effective in #7, I would implement an online (or onsite classroom style) training program for office managers and agents to learn about online marketing. This training program would be voluntary for the many Century 21 agents who know that the Web offers an amazing opportunity but who don't know where to start. I would want a Web marketing expert in each region, or city, or even each office. But I would only want the eager people who want to be there.
9. Each local Century 21 expert would create such things as a localized real estate group on Facebook, localized Twitter feeds, would participate on local forums, chat rooms, and blogs and perhaps create a local blog.
10. This is your local Search Engine Optimization strategy. Your local efforts, using the words and phrases that are used locally ("the tri-county area" or "Rockville Beach" or "the Jefferson school district") will generate great local search results. This would also serve as your local media relations strategy as local newspapers, radio and TV would quote from your localized resources.
What do you think, Matt?