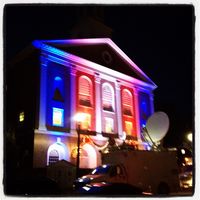 I admit I am a big geek when it comes to the long drawn out US presidential campaign season. I enjoy the marketing and PR aspects immensely.

Many people think the two-year campaign is too long. Not me. I love all the debates and speeches and talk show appearances and news coverage.
All marketers can learn from presidential campaign strategies. It plays out in real-time for you to watch live. What fun. Here was my post from 2008 created to show how we can learn from last cycle's winner: Ten marketing lessons from the Barack Obama Presidential campaign.
(Note: This is a marketing blog, not a political blog. I am not talking up the merits of any candidates but rather using their marketing as examples for all to learn from.)
Jon Huntsman stays local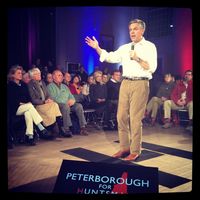 Last night I attended a Jon Huntsman town hall event in Peterborough, New Hampshire (about 60 miles from where I live near Boston). This was local campaigning at its best. A beautiful small town with the local hall decked out in patriotic colors (and with television trucks out front).
It was particularly interesting because last night was the Iowa Caucus and Huntsman's strategy has always been to focus on New Hampshire and not compete in Iowa. During the Q&A, when someone asked the candidate if he had a message to the winner of the Iowa Caucuses, Huntsman said, "It would be welcome to New Hampshire; nobody cares."
Huntsman's campaign is an excellent example of buyer persona marketing. He is focused on voters in New Hampshire who want to meet the candidate in person. He has also been using mainstream media in a big way, doing lots of interviews with New Hampshire mainstream press and scoring some key endorsements. He decided not to market to the Iowa buyer persona. And, significantly, he has chosen to downplay the buyer persona who wants to get to know candidates through social networks.
I did note that he is the first candidate I am aware of this season to talk about Grateful Dead Marketing, saying: "I'm going to travel around the country with a Grateful Dead type of caravan & talk about term limits." Nice!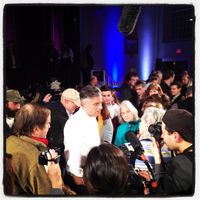 This was Huntsman's 150th event in New Hampshire. His strategy is to focus at the local level, town-by-town, to build support. He's not focused on social media. In fact he said last night in his talk that Twitter and Facebook is not important. Hmmm...
(He does have a seldom-used @JonHuntsman Twitter feed and the campaign has built him a Jon Huntsman Facebook page. There is a blog too but it is written by "Team Huntsman" and not updated that often).
I had wanted to ask him about social media, but despite emailing the Huntsman for President media office and talking to his media people at the event, I didn't get a chance. However, several television stations scored interviews. Clearly, mainstream media is more important than social media for the campaign staffers. To be fair, I was told if I came to another event they would try to fit me in, however I said because I was coming from Boston, that wouldn't be likely.
Huntsman daughters as social media proxies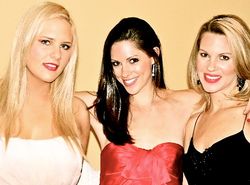 Despite dissing Twitter and Facebook, last night Huntsman made a big deal out of introducing his daughters who were in the balcony by talking up their Jon2012girls YouTube channel. He told the audience to check out the videos so I did. There are only two. This one Jon2012girls Smokin' Ad is kinda funny if you've seen the original Now is the time for action! This Jon2012girls video has generated 350,000 views, numbers which prove social media has value.
The girls are on Twitter too with a feed called "Huntsman Daughters" at @Jon2012girls with 19,000 followers.
Advice to Jon Huntsman: Don't dismiss social media in one part of your stump speech and then talk up your daughter's social media in another part of the speech. You don't have to like Twitter and Facebook yourself to benefit from its use. Social media was an important part of Obama for America campaign success so it does work to get someone elected president.
Advice to Huntsman for President media staff: Return emails from bloggers seeking an interview. It is okay to say "no". It is not okay to ignore. And you might check out who is contacting you and if the person has nearly 8 times the number of Twitter followers as your @Jon2012HQ feed, you just might want to connect.
Advice to Huntsman Daughters: There's huge potential here for you to take on social media campaigning in a big way. Do a bunch of interviews and mini-documentaries from the campaign trail and post them onto the YouTube channel. Give us an inside look at what's going on behind the scenes of the campaign by using Twitter, Facebook, Instagram, and other networks. Give us passion. Give us personality. Show us why your Dad should be president. Be the campaign's face to the young and social media savvy people who will help him and vote for him.
Town Hall photos shot with my iPhone 4S and tweaked with Instagram.
Huntsman Girls is their Twitter profile pic.