If you've read my book The New Rules of Marketing & PR or spent time on my blog, you may recall that I stress the importance of "buyer personas." In fact, I believe they're one of the most fundamental aspects of great marketing. A buyer persona is distinct group potential customers, an archetypal person whom you want your marketing to reach.
Basing your work on buyer personas prevents you from sitting on your butt in your comfortable office just making stuff up, which is the cause of most ineffective marketing. Incidentally, my use of the word "buyer" applies to any organization's target customers. A politician's buyer personas include voters, supporters, and contributors; universities' buyer personas include prospective students (and their parents); a tennis club's buyer personas include potential members; and nonprofit buyer personas include corporate and individual donors. Go ahead and substitute however you refer to your potential customers in the phrase "buyer persona," but do keep your focus on this concept because. It is critical for success online.
Buy truly understanding the market problems that your products and services solve for your buyer personas, you transform your marketing from mere product-specific, ego-centric gobbledygook that only you understand and care about into valuable information people are eager to consume and that they use to make the choice to do business with your organization.
Instead of creating jargon-filled, hype-based advertising, you can create the kind of online content that your buyers naturally gravitate to—if you take the time to listen to them discuss the problems that you can solve for them. Then you'll be able to use their words, not your own. You'll speak in the language of your buyer, not the language of your founder, CEO, product manager, or the PR agency staffer. You'll help your marketing get real.
Consider Kadient, a company that provides salespeople with a SaaS application for managing content used in the selling process such as PowerPoint presentations, RFPs, and proposals.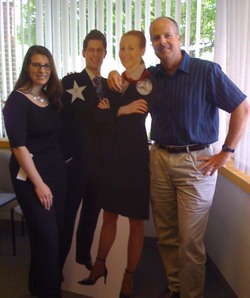 Kadient has a number of buyer personas, including "Anya" and "Luke" both salespeople. In order to build these personas, Kadient marketers interviewed dozens of these sorts salespeople to build a composite of Anya and Luke. The company has kindly let me talk about these two here, (but we're keeping their other personas confidential).
In the photo, you'll see, from left to right, Heather K. Margolis, Director of Marketing for Kadient, Luka and Anya (both cardboard cutouts) and Jeff Ernst Vice President of Marketing for Kadient. Note how much more valuable it is for personas to "come alive" with both names and life-size photos.
Anya
Anya is a 30-year-old senior sales professional who has been in the top 10% for the past 5 quarters at a large financial services company. She is a career salesperson, always willing to put in the extra effort to deliver the most value to her customers, even when that means staying late at the office or working at home on the weekends. She's been selling long enough that for most sales situations she finds herself in, she's seen it before and has a set of strategies and messages she uses. Anya is very competitive and, while she believes in teamwork, hesitates to give too much of her secrets away to newer salespeople. Anya wants to ensure she always remains at the top of the team.
Anya's Goals
Anya needs to bring in the numbers every quarter, to remain secure in her position at the top of the sales performance chart. To do this, she knows that if she can spend less time doing administrative duties and looking for information and creating materials for her buyers, she can work more opportunities and maximize her face-time with customers. The service offerings she sells change frequently, and she knows she needs to be armed with the latest, most accurate messaging and content.
Luke
Luke is a 25-year-old sales professional who has been in his position at a large financial services company for six months. He's been in sales for several years but is fairly new to this level of financial services. Luke has a lot of sales talent, is very driven and eager to learn but realizes he does not have the experience of many of his peers. He's got a busy social life and is very good at networking. He enjoys working hard and playing even harder. Luke lives in the city and travels for fun on the weekends.
Luke's Goals
Luke is not yet hitting his quota, in fact he has yet to close a deal on his own. Ramp up took longer for Luke then he thought it would and he's concerned that if he doesn't close a large deal or beef up his pipeline he will be at risk of losing his position. Luke needs to learn better processes for building a pipeline, explaining a plethora or products and services, and perfecting his process to be more efficient. He spends a lot of time learning about his product offerings and needs more time to figure out his buyers needs. He doesn't feel like he gets enough support from his company and has to figure things out on his own. He knows that if he could better understand what the top sales people in his firm are doing to sell in certain scenarios, he would nail it.
What about your company? Do you know your buyer personas as well the marketers at Kadient do?
Disclosure: I am on the Board of Directors of Kadient. Although the company follows the ideas in my book, I did not have anything to do with this effort.
For more information on Buyer Personas, visit Adele Revella's excellent Buyer Persona blog.