I've been enjoying Twitter and (so far) have managed not to become obsessed. I'll tweet a few times a day and check out others now and then throughout the week.
As you probably know, people use Twitter to keep their "followers" (people who subscribe to their Twitter feed) updated on their life. For instance, you might tweet about the conference you're attending, the project you're engrossed in, or you might ask your network a question. Users can choose to follow the Twitter updates of anyone they want to hear from: family members, colleagues, or perhaps the author of the last book they read.
Twitter has been a valuable personal branding tool for me. I've connected with people who read my stuff, met new contacts, pointed people to my books, and promoted speaking engagements. All for free and in just a few minutes a day.
Many people ask me about Twitter and it's use in personal branding and marketing. But they immediately dive into stuff like "how often should I tweet", "what should I tweet about", "is it cool to DM people" (send direct messages), and other details of using Twitter. Well, that's all fine, but the vast majority of people miss the most basic (and important) personal branding aspect of all.
What does your Twitter page look like?
Most Twitter pages don't say enough and most have crappy design. While that's fine if you're just communicating with friends, if you care about your personal brand, you need to do better. Much better. And it is so easy!
Here are my suggestions. You make these changes under the "settings" tab in Twitter. Again, this is Twitter for personal branding, so it may not apply to you:
Twitter ID: (mine is dmscott) Use something that is not silly. Something like MrSillyGuy is probably not a good idea for most people. (However it that is your personal brand of course it is fine. As of this writing MrSillyGuy is not taken as a Twitter ID, so go for it if you want to.)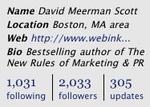 Name: (mine is David Meerman Scott). Use your real name. Don't just default to your user ID. And don't just use a nickname like "Pookie". You can put your nickname in quotes inside of your real name if you want to. You want people to know who you are if you care about your personal brand.
Location: (mine is Boston, MA area) Use the town or nearest city that makes sense for you. Saying something cute like "earth" or "somewhere in Canada" turns people who don't know you off. Besides, the location is a good way to make local contacts.
Web: (mine is my blog URL) If you have a blog, put the URL here. Or maybe a company Web site makes sense for you. This should be somewhere people can go to learn more about you. You can leave this blank if you want.
Bio: (mine is Bestselling author of The New Rules of Marketing & PR) This is where you say something about yourself. You only get 160 characters. As a component of personal branding, this is a critical section. Don't leave it blank. And don't make a mini-resume from a laundry list of attributes like: "father, brother, surfer, economics major, world traveler, marketer, and rockstar wannabe." (That would be my list) I see this sort of thing all the time and it is not good for personal branding. Try to be descriptive. And try to be specific.


Your photo is very important! Don't default to the placeholder that Twitter provides for those with no photo. And don't use something clever as a stand in (like your cat). If you care about your personal brand, you should use your photo. Remember, the photos appear very tiny on Twitter, so use a close-up shot.



The background image of your Twitter page is a place where you can really show off. The default blue background is like when you first open PowerPoint - it is a default. Twitter has some choices, but many people use them so you will not be unique. Shoot a custom photo that only you have and you will really shine. I have a close-up photo of a nifty old typewriter keyboard. It's my personal brand on Twitter.

Don't protect your updates. If you want to meet new people and promote your personal brand, I suggest you make your updates available to the world.
This stuff is really easy and important for your personal brand. If you are on Twitter, take the time to make some changes today.