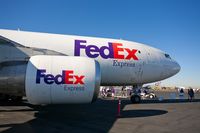 Instant gratification is a powerful product attribute in the always-on, real-time culture we live in today.
Drive-through donuts Dunkin'. Real-time music iTunes and book Kindle downloads. Overnight package delivery FedEx.
Whatever it is, do it faster and you'll win market share. I'd argue that Google's tremendous rise was fueled by its development of a real-time capability for online advertising. Although Google is known for its search engine, the innovation that turned it into one of the most successful companies on the planet is the real-time Google AdWords application, which allows advertisers to bid for ad placement by keyword.
You can often create a new market niche, and a competitive edge, by delivering faster than everybody else, by doing in real time something that normally takes much longer.
GutCheck it
Consider the market research business. In the old days, the process of doing quantitative research meant a long process of data collection by telephone, mail, or in person. Real-time Web applications like SurveyMonkey allow instant survey creation with results you can see quickly.
In the qualitative research arena, the process of interviewing people in a target market usually required spending a bunch of money to run focus groups or sending interviewers to the mall with a clipboard. The process takes an incredibly long time.

A new company called GutCheck, was founded to be a real-time service to conduct qualitative research. The company recently received $2 million in Series A Funding.
The idea is that when a marketer wants some instant consumer feedback (to hear about new product packaging perhaps, or to test marketing copy), they do it right away on the Web.
Marketers use the GutCheck Web interface to draw locate an individual with precise demographics (from a universe of millions) who is willing to be interviewed by text chat. The "meeting" is instantly brokered, and the marketer pays $40.
Imagine if the Gap had done some interviews prior to the failed attempt to change their logo?
In every industry there is opportunity to do for customers in real time what now takes a long time.
Consider your own marketplace. What task could you make real time? Would your buyers be willing to pay a premium to get it faster? Or is there an untapped market waiting for you to deliver in real time?
I'll leave that to your imagination. But look around. In almost every field of endeavor there's an opportunity to harness speed to your advantage and create a product or even an entire company from it.
More examples of real-time products are in my new book Real-Time Marketing & PR which was released on Monday.
Image: Shutterstock / Eugene Berman
Disclosure: I am on the board of advisors of GutCheck