Sandy beaches in warm and sunny locations are a commodity product. This may come as a complete shock to people in tourism marketing, but it's true. The traditional approach of showing white beach sand with footprints near lovely blue water and a bikini or two just doesn't cut it because that's what everybody does. How can you stand out?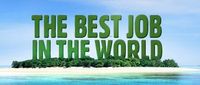 As I wrote about a year ago, Tourism Queensland created a fantastic video contest called The Best Job in the World.
The job of blogging and posting videos paid 150,000 Australian dollars for a six-month gig. The contest required each applicant to post a one-minute video explaining why he or she should be chosen as caretaker of Hamilton Island on the Great Barrier Reef. Over 30,000 people applied, and the videos were seen by millions. In addition, thousands of bloggers and media outlets (magazines, radio, television, and newspapers) wrote and broadcast about The Best Job in the World, producing even more buzz about not only the contest but also the location as a tourist destination.
Ben Southall from the UK won the contest and his gig is now over.
So what was the result now that it's almost a year later?
Ben did such a great job that he's now employed full time as a brand ambassador and brand journalist for Tourism Queensland. I caught up with Ben when he was in New York with Tourism Queensland Regional Director Shana Pereira after a Today Show appearance to find out.
Ben, what sort of content did you create?
Ben Southall:
"I like things to make people a little bit jealous by adding lovely photos of sunset, lovely gorgeous meals, and fun things, getting into a helicopter, all those sort of bits; so people would go through and actually follow the link a lot of the times to see the photos, because they wanted to know physically where I'd gone to.
"I've included a more fun element into the site, by trying to integrate things like trip-tracker, which allowed again people to see a route, a GPS track of where I've been, for instance, a sailing trip or a diving trip; and it just gave a little more interactivity to the site. The amount of times I've gone on to Google Earth or Google Maps, and revisited somewhere I've been on a holiday or a trip; and if people can do that, and actually do a fly-by on Google Earth of the route that I've taken on a boat, they get much more of a picture, and they can almost live it themselves, and see it a bit more. So that side of it has become, I suppose, more interactive. I'm still now looking at how I can make it even more interactive, and how I can bring people into it to live it a bit more with me."
How did you interact with people?
Ben Southall:
"I've tried to, when people have contacted me, just because it opens the doorway a bit more, and allows free flow speech. But I was almost swamped to start off, so many people were contacting me, there was hardly enough time to do it.
"I was trying to respond more to comments on the blog, because I would sit down and physically write out a paragraph or so to people, and they felt as though they were interacting a bit more with me.
"The Twitter thing has only really, in the last couple of months, become a bit more personal; the messages have come through of what you're doing after the Best Job, and then I've got a chance to respond to keep people updated."
So what are you doing now?
Ben Southall:
"The role has really evolved from being an Island caretaker; in terms of location, I've moved down from the Islands, up the Barrier Reef to Brisbane to the state capitol, and I'm down there because Tourism Queensland offices, and the role itself is now really going and explaining to key tourist markets around the world and the people involved in the industry, all about the experiences I've had.
"It's really a first-hand report of what there is to do there, as opposed to being just a sales pitch. It's just like I can do it, so then you can go and do it too, all you need to do is book your holiday."
Shana, How did you decide to do Best Job in the World?
Shana Pereira:
"Tourism Queensland Regional Director Shana Pereira: "When we began planning the idea, we knew that what we wanted was the social media world; we wanted a way to educate the consumer, but through the eyes of a peer, as opposed to a Queensland expert of which we had been traditionally doing and constantly doing already. So, we started on a very open-minded front, so there was no resistance at all, we were all very excited.
"I know that being a quirky way, I think the main key with that was that we all stayed very focused on the goal, being to educate the consumer, and in turn, get them to Queensland to the Islands of the Great Barrier Reef. So, a quirky idea sometimes, you know, organizations tend to put that out there and forget what objective is ultimately the goal of the campaign, so we did a really good job of reminding ourselves constantly that that is what our focus was."
What has been the result of this campaign?
Shana Pereira:
"Our main objective was to raise the awareness of the Islands of the Great Barrier Reef. It was amazing to see how many people in a lot of different countries didn't realize that the Great Barrier Reef even had Islands that they could themselves experience.
"We were very humbled by meeting all of our goals for our campaign in the first 30 hours of launch, and in no way, did we ever expect it to be that big.
"The effects of having the PR value impact when it did can now be seen through the visitation numbers; they have, in a lot of our markets, they have stayed and broken even to the same figures last year; and where a lot of other long-haul destinations saw significant decline, we actually held up really, really well. And there is an increase in the amount of money that visitors are spending in Queensland. So being that the Islands of the Great Barrier Reef are quite an aspirational destination, is generally a higher end traveler; that's where we saw the most amount of impact, where people were actually going and staying a lot longer, and spending more on their vacations. So we are very happy with the results so far."
What advice for others considering a bold and interesting idea?
Shana Pereira:
"Consumers don't want to be sold anything anymore, you want to feel like you've gone out and found it yourself and decided on your own that that's what you want to do, or that's what you want to buy. There's no better time to actually go out and really try new things, because you just never know what's going to work."