I'm often asked: "How do I market a commodity." My answer is predictable to those of you who read this blog: Create a world wide rave and people will share your ideas and tell your stories. Yes, even if you market a commodity.
Sandy beaches in warm and sunny locations are a commodity product.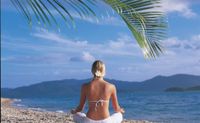 This may come as a complete shock to people in tourism marketing, but it's true. The traditional approach of showing white beach sand with footprints near lovely blue water and a bikini or two just doesn't cut it. But how can you stand out?
I've been following the Tourism Queensland fantastic world wide rave The Best Job in the World. Maybe you have too.
It's a contest to be chosen as Caretaker of the Islands of the Great Barrier Reef. The position has a few minor tasks, but the main thing is to use social media to talk up the Islands of the Great Barrier Reef. The job of blogging and posting videos pays A$150,000 for a six-month gig.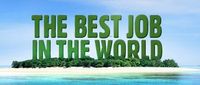 The application process required posting a one-minute video application explaining why you should be chosen as caretaker of Hamilton Island on the Great Barrier Reef. Over 30,000 people applied and today the 16 shortlisted finalists were announced.
Check out the videos from the 16 finalists. They rock. And the diversity is like a lesson in great one-minute video production.
Tourism Queensland created a phenomenon.
For the past two months I've asked, by a show of hands, the groups I speak in front of if they have heard of The Best Job in the World. In Washington D.C 20% of the room had (the lowest percentage). And in Tartu, Estonia a whopping 60% had (the highest). The average over several thousand people in 6 countries was over 30%.
HOLY COW. Imagine if 30% of the world had heard of your product via a world wide rave you created?
How did Queensland, Australia get so much attention? I've been to Queensland and the Great Barrier Reef twice. Yes, it is beautiful. But so are many other sandy, beachy, sparkly, bikini-clad places I've been: Koh Samui, Santorini, Barbados, Puerto Vallarta, and on and on.
Queensland found a way to get people to share their ideas and tell their stories.
Tens of thousands of bloggers and tweeters have talked up the best job in the world.
Thousands of stories have appeared in mainstream media.
I asked John Frazier and Melissa Braverman, who worked on the Best Job in the World. John and Melissa are at Quinn & Co., a New York Public Relations firm that is part of the Tourism Queensland Best Job in the World team together with Brisbane based CumminsNitro.
Frazier says that the job announcement broke in Australia on Jan. 12, 2009 and by breakfast time in London, AP was interviewing Tourism Queensland's UK director for a broadcast package which turned up later that day on the morning shows in the U.S. Within two days, there were thousands of media pickups.
Tourism Queensland set a goal to get 400,000 new visitors to their Web site over the course of the one-year campaign. They blew past that in about 30 hours and had a million hits on the second day.
DMS: What did you learn about reaching people on this project?
"We learned that if you hit the sweet-spot of the right story at the right time, it will travel like a tsunami all the way around the globe," says Melissa Braverman. "Traditional media (a Reuters exclusive) broke the story, which immediately went viral because it was a chance to have the coolest job in the world at a time when everyone else was getting laid off."
"It was a glimmer of hope at a particularly gloomy time," says John Frazier. "We've talked about this amazing success a lot internally, and we believe it was a strong idea that would have worked no matter what. However, had it come six months earlier it might not have captured the world's imagination in quite the same way. Timing is everything!"
DMS: What advice would you have for others who want to create something that will become a World Wide Rave?
"You can't re-heat a soufflé," says Frazier. "There were quickly a number of copycat campaigns that didn't quite take off in as big a way. Best advice is to try to develop an idea that resonates authentically in the lives of real people and then find a way to mount it across as many platforms (traditional media, YouTube, ning, Twitter, Facebook, etc.) as possible."
An amazing story. Thanks to John and Melissa for sharing.
Your challenge: How will YOU create a World Wide Rave?