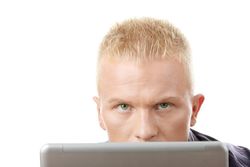 My friend Jim Stewart just posted on the idea of a Social Media Administrator. Jim's idea is that there is a need for this new role, much like in the late 1980s we developed the need for a System Administrator (Information Technology department people responsible for computer networks) and the 1990s brought Webmasters (responsible for company websites).
I agree and I'd like to expand on Jim's post
I see the Social Media Administrator not as someone who develops content and participates in discussions on social media (although they could certainly have a business related personal blog or twitter stream).
This is not the senior leadership role for social media in an organization but rather the coordination point for company activities. The role would be someone who manages and provides consistency with an organization's social media presence. Of course, to be done well, the skill set of a Social Media Administrator would need to include deep knowledge of tools like YouTube, Facebook, Twitter and blogs.
In my travels, I meet many company executives who struggle with how to implement social media. I think that the consistency and leadership provided by the person in this role could help to reduce the fear that many people have of social media.
First cut at a Social Media Administrator job description
1. Be fully knowledgeable on the tools, techniques and philosophies of social media.
2. Maintain an accounting and provide consistency for company accounts on social media sites. This does not necessarily include personal accounts on sites like Facebook, YouTube and Twitter. However it does include corporate accounts on these sites. Ensure consistency in branding, update frequency, and permissions on these sites. Look for abandoned accounts and remove.
3. Watch for rogue sites springing up using company branding.
4. Analyze and provide advice on social media analysis and monitoring tools (services such as dna13 and Dow Jones Insight that organizations use to monitor social media). Work with those charged with monitoring to implement the tool(s) chosen.
5. Work with others to publish and distribute a set of social media guidelines for personal accounts on social media sites. While the Social Media Administrator may not actually write the document, the person should maintain it and ensure wide distribution. Examples of social media guidelines are IBM Social Computing Guidelines and New Media and the Air Force.
6. Maintain a list of work related personal blogs of employees and make it available to the public on the company Web site. IBM does this really well.
(There are probably many things I am missing here...)
Where does the Social Media Administrator report?
This is a tough one. I think it depends on the company. At IBM and the US Air Force, the social media guidelines were created and are maintained in the communications (public affairs) departments. There's an argument that says this should be an IT role, but I think it best fits in the Public Relations or Marketing areas. No matter where it sits, the supervisor of the Social Media Administrator should have an understanding of social media.
What do you think?
Image: Piotr Marcinski / Shutterstock