As the Web has made communicating with reporters and editors extremely easy, breaking through using the online methods everyone else uses has become increasingly difficult.
These days, you can find the e-mail addresses of reporters in seconds, either through commercial services that sell subscriptions to their databases of thousands of journalists or simply by using a search engine. Unfortunately, way too many PR people are spamming journalists with unsolicited and unrelenting commercial messages in the form of news releases and untargeted broadcast pitches.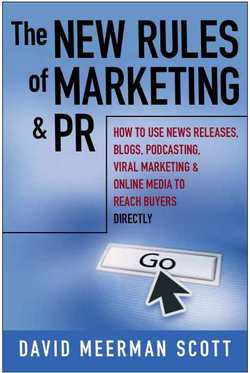 I deliver much more on this topic in my upcoming book: The New Rules of Marketing and PR: How to use news releases, blogs, podcasts, viral marketing and online media to reach your buyers directly which comes out in June 2007 from Wiley. Pre-order your copy today! (thanks.)
I hate to say it, but for me and among the many other journalists I speak with, the PR profession has become synonymous with spammers. For years, PR people have been shotgun-blasting news releases and blind pitches to hundreds (or even thousands) of journalists at a time—without giving any thought to what each reporter actually covers—just because the media databases we subscribe to make it so darn simple to do. Barraging large groups of journalists with indiscriminate PR materials is not a good strategy to get reporters and editors to pay attention to you.
NON -TARGETED, BROADCAST MEDIA PITCHES ARE SPAM
As I've said on this blog many times, I get dozens of news releases, pitches, and announcements from PR agency staffers and corporate communications people every business day because I write for EContent Magazine (I'm a contributing editor) and other publications on a freelance basis.
Like all journalists, my e-mail address is available in many places: in the articles I write, on my blog, and at magazine Web sites. That easy availability means that my address has also been added to various databases and lists of journalists. Unfortunately, my e-mail address also gets added (without my permission) to many "press lists" that PR agencies and companies compile and maintain; whenever they have a new announcement, no matter what the subject, I'm part of the broadcast message. Ugh.
The PR spam approach simply doesn't work. Worse, it brands your organization as one of the "bad guys."
OK, that's the depressing news. The good news is that there are effective "New Rules" approaches that work very well to get your messages into the hands (and onto the screens) of reporters so they will be more likely to write about you. Don't forget that reporters are always looking for interesting companies, products, and ideas to write about. They want to find you. If you have great content on your Web site and your online media room, reporters will find you via search engines.
Try to think about ways to reach journalists that aren't just one-way spam. Pay attention to what individual reporters write about by reading their stories (and, better yet, their blogs) and write specific and targeted pitches crafted especially for them. Or start a real relationship with reporters by commenting on their blogs or sending them information that is not just a blatant pitch for your company.
Become part of journalists' network of sources, rather than simply a shill for one company's message. If you or someone in your organization writes a blog in the space that a reporter covers, let them know about it, because what you blog about may become prime fodder for the reporter's future stories. Don't forget to pitch bloggers. Not only does a mention in a widely read blog reach your buyers, reporters and editors read these blogs for story ideas and to understand early market trends.
THE NEW RULES OF MEDIA RELATIONS
The Web has changed the rules. If you're still following the traditional PR techniques, I'm sure you're finding that they are ineffective. So to be much more successful, consider The New Rules of Media Relations:
> Non-targeted, broadcast pitches are spam.
> News releases sent to reporters in subject areas they do not cover are spam.
> Reporters who don't know you yet are looking for organizations like yours and products like yours. Make sure they will find you on sites such as Google and Technorati.
> If you blog, reporters who cover the space will find you.
> Pitch bloggers, because being covered in important blogs will get you noticed by mainstream media.
> When was the last news release you sent? Make sure your organization is "busy."
> Journalists want a great online media room!
> Some (but not all) reporters love RSS feeds.
> Personal relationships with reporters are important.
> Don't tell journalists what your product does. Tell them how you solve customer problems.
> Does the reporter have a blog? Read it. Comment on it. Track back to it.
> Before you pitch, read (or listen to or watch) the publication (or radio program or TV show) you'll be pitching to!
> Once you know what a reporter is interested in, send her an individualized pitch crafted especially for her needs.