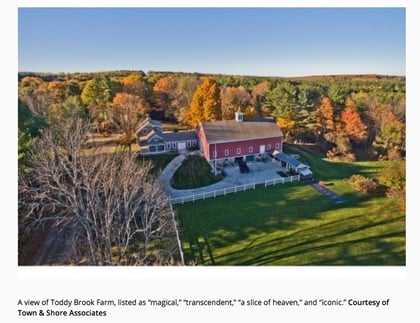 Organizations filled with people who take the time to understand the needs of buyers they wish to reach, and then develop information to educate and inform those buyers, are more successful than organizations that just make stuff up. Buyer personas, the distinct demographic groupings of your potential customers, are critically important for successful marketing that leads to sales success.
Creating marketing and sales initiatives that target specific buyer personas is a strategy that easily outperforms the results you get from sitting on your butt in your comfortable office making stuff up about your products.
Consider the real estate business. Most realtors focus on the property itself – in residential markets, they talk about how many bedrooms and bathrooms, the brand of appliance in the kitchen, how much land the house sits on. If you're only talking about product attributes like these, you're not being an effective real estate marketer.
Who is an ideal buyer of the property?
I recently spoke with Meredith Goad at the Portland [Maine] Press Herald who was working on an article about the use of buyer personas to sell farms. I was so excited about the conversation with her! We discussed how real estate professionals needed to step back and understand the people who might buy the property.
Meredith interviewed sellers and buyers representing a particular persona. "Maine real estate brokers are getting a lot more practice these days selling old – but updated – Maine farms to people who want to try their hand at being a gentleman (or gentlewoman) farmer," she wrote. "These buyers often still work full time, but they fantasize about escaping urban life for a more bucolic existence on beautiful property where they can dabble in farming and maybe raise a few chickens or have a cow."
What a perfect description of a particular buyer persona!
One property marketed in this way to wealthy people from nearby Boston, a Kennebunk farm listed for $1.25 million, with 80 acres of fields and woods listed separately for $495,000, attracted more than 15 potential buyers who were looking to leave urban life behind and get their kids away from their screens and out into the woods.
Marketing a property as a lifestyle rather than a set of rooms and a number of acres is a subtle but really important distinction.
In the case of Maine farms for sale, distinct buyer personas could be newly married couples who want to raise a family in a rural environment; professional people from urban areas looking for a simpler way of life; professionals who live within driving distance of Maine and want a weekend retreat; a buyer who is tired of the beach and wants something different in a vacation property; or someone who grew up in a rural area and dreams of returning to that life.
A smart real estate person wouldn't market just the farm. They'd say here are the attributes of a potential buyer. You put those attributes together and then try to understand how do people who actually fit that demographic think about such a property? What are the actual words and phrases that they would use to describe such a property? How would it make them feel if they were to be owners of that property?
Content for buyers
That information could then be translated into online content by an editorial team that creates compelling content for each buyer persona. The content could include YouTube videos, ebooks, audio podcasts, photo essays, charts, interactive tools and calculators, as well as participate in real estate forums, chat rooms and blogs.
This amazing information would serve as a centralized Search Engine Optimization strategy. If you are generating terrific information and solving problems for your buyers, you are using the words and phrases your buyers use. Therefore you will get high search engine rankings.
The resulting article When selling a farmhouse, it's all about promoting the lifestyle is an interesting read.
"In Maine, by marketing the 'gentleman's farm,' real estate brokers are paying more attention to buyers' dreams and how a listing makes them feel."