Social networks are a great place to share content, to interact with others, to listen in on what's happening, and yes, if approached carefully, social networks can be a way to get the word out about you and your business. However as I review people's business-related social streams I find way too much selling going on.
When I speak with people at conferences, many want to know, specifically, how to use social networking feeds such as Twitter, Instagram, LinkedIn, and Facebook to communicate effectively as a marketing and sales tool.
Too many companies are shouting into the social world
While there is no right or wrong when it comes to content creation and sharing, I'd say that a loose guideline may be helpful as a way to think about the various uses of social networks.
As a way to think about your social activities, I'd suggest you should be doing 85 percent sharing and engaging, 10 percent publishing original content, and only five percent or less about what you are trying to promote.
85 percent sharing and engaging
Sharing and engaging includes such things as commenting on someone else's blog or Facebook post, quoting a tweet and adding your take, or responding to somebody who has said something that interests you. You can also share an interesting blog post or news report with your network.
Most people, especially those new to a social network, don't share and engage enough. I'd say you should be doing it with at least 85 percent of your social interactions but it could be much more. Since sharing and engaging is the easiest aspect of social networking, it shouldn't take much to do more of it.
10 percent original content
I'd suggest that one out of ten of your social interactions should be publishing something original. You can do such things as share a photo you shot, write a blog post, compose a tweet about something that interests your marketplace, or publish a video. The more helpful this content is to your buyer personas the better.
Many people worry about social networks as a tool of business because they think that everything they do has to be new content. But I suggest only ten percent needs to be!
Make 5 percent or less a promotion about what you do
One out of twenty interactions (or fewer) can be something that you want to promote to your audience. This is when you can share a new product your company offers, a special discount for social followers, or other content of a promotional nature.
Most people sell way too much and as such their social feeds don't have much interaction. People just don't want to be sold to. However, if you are helpful and engaging and responsive on your social feeds, then you build an audience who wants to hear from you and who will be receptive to learning more about what you and your organization does.
Jay Blakesberg shares first and then sells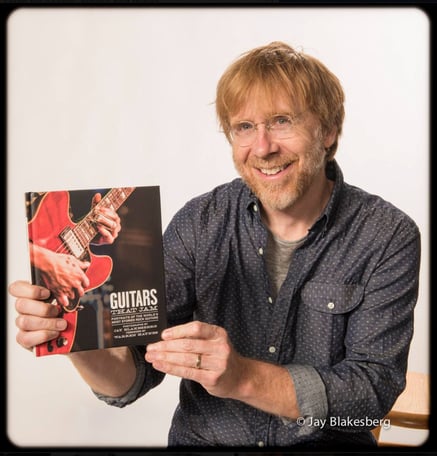 Jay Blakesberg is a perfect example of somebody who interacts with social networks in the way I suggest.
Jay is a San Francisco-based music photographer and film maker who has shot over 300 assignments for Rolling Stone and has been published in print magazines from Time to Vanity Fair to Guitar Player as well as hundreds of other major magazines.
I first met Jay virtually when he commented on a blog post I wrote about the Grateful Dead some years ago. Jay has shot the Grateful Dead and the individual band members hundreds of times beginning in the early 1980s, so my post was perfect for him to respond to. That simple interaction led me to reach out to Jay and since then we've become friends.
I've hired Jay for three different projects so far: He supplied the photos for my book with HubSpot CEO Brian Halligan titled Marketing Lessons from the Grateful Dead; Jay shot some portraits of me; and I had him photograph my keynote speech at the NAMM conference. All that work from me is a result of one simple comment Jay left on my blog!
Jay has a very popular Facebook page for his business with more than 42,000 followers. He posts interesting original photos and if you're a fan of rock music like I am, the feed is fun to check out. Jay is constantly interacting with his fans and posting his content, for free, for all to enjoy. Jay was the official photographer for the Grateful Dead "Fare Thee Well" final performances and over the past several weeks, he's posted photos every day from the shows. For weeks Jay has been share, share, share!
But yesterday, Jay sent a rare promotional message to his Facebook fans that read:
I have a new book out! Guitars That Jam!
It features Bob Weir, Jerry Garcia Phil Lesh, Trey Anastasio Warren Haynes Derek Trucks, and so many more! It is the stories about their guitars written by the artists (except Jerry) with my photography!
I know many of you loved my Fare Thee Well photos... Please support your friendly neighborhood Photographer.
This Facebook post generated 578 likes, 38 shares, and 30 comments in just the first 12 hours after it was posted. Imagine that. A promotional message that generates such amazing results.
Because Jay's interactions are mostly sharing, responding, engaging with fans, and publishing his original photographs, he's earned the ability to occasionally talk about his products and services. And because people appreciate Jay's content, they are eager to support him by buying a book.
By the way, I've purchased a copy of Guitars that Jam for myself and for several friends. It is a terrific book.
Social media are about engagement. Sure they is also a tool for marketing and sales, but you need to engage first.
Photo of Trey Anastasio of Phish holding Guitars that Jam courtesy of Jay Blakesberg.