I always love sharing examples of success and today we have a fun one from the world of sports.
Most professional sports teams, when ready to make an announcement like a new player joining, follow the "old rules". They just write a press release and then share the news with the handful of reporters who regularly cover the team. That's typically all that's done to get the word out.

That's not what John Archibald did when he worked on the big news that Tasha Kai would re-join Sky Blue FC, the New Jersey team of the National Women's Soccer League. John is VP of Communications with the team and is also CEO of Resolution Sports, a firm that works with other professional sports teams.
"One of the world's most popular women to ever play soccer, Tasha Kai, became our target offseason signing," John told me. "Tasha was known for an extremely vibrant personality, hard-nosed goal scoring and, well, having a ton of tattoos. She was different than any other player. She was a former player of ours from years back and was always an extremely popular fan favorite. The only problem was she has disappeared from soccer for the past five years, which meant we had a very tough sell in front of us to convince her to put the boots back on. We knew she was still in tremendous shape, and we knew she could still play. After much persuasion and negotiation, we were eventually able to secure a deal to bring her back."
How to break big news with maximum effect
Once the deal was signed, John got to work to map out how to use social networks to get fans excited about Tasha's return.
The day before announcing that Tasha had been signed, they tweeted on the team account @SkyBlueFC: "We have a huge player signing announcement coming out tomorrow. Stay tuned for info!"
"This immediately got everyone talking and trying to figure out who it could be, creating buzz and a lot of chatter for us," John says.
The next day, on the morning of the announcement, they tweeted: "Make sure to be right here on Twitter at 3:00 PM ET to see who we are bringing to NJ this season!"
John used this tweet to notify everybody of the time and to make sure they were dialed in at the announcement time. Importantly, it brought the community together and made fans feel like true insiders.
"We continued to put out periodic teasers throughout the day to keep the buzz going," John says. "The media got themselves prepared to be on Twitter at 3:00 as well so they could hear the announcement and not get scooped by anyone."
At 2:50 PM ET, they again took to Twitter, posting several "Are you ready?" type tweets.
"At this point, everyone figured we would just post at 3:00 who the player was, but we completely switched it up," John says. "I was sitting right beside our newly promoted head coach, Christy Holly, and we had Tasha on speaker phone in Hawaii so we would all be on the exact same page. Tasha lives in Hawaii when not playing for us."
Prior to the big announcement day, John worked with a producer in Hawaii to make a video that did not have Tasha's face showing initially, just showing her legs and feet as she dribbled a soccer ball.
"Those who know her could see the tattoos, though, and that got their minds racing as to who it could be. When you watch to the end of the video, which was just 15 seconds so we could fit it on Twitter and Instagram without interruption, it scans from the sky to her face, and she says 'I'm baaaack!'"
At the big reveal time of 3:00 John posted a series of tweets that said: "Alright, Sky Blue FC fans, here's the deal. Our team is all about you, and we want you to always know that. With that being said, we are going to have you, the fans, tell the world who we signed before we even tell anyone ourselves. Ready?"
They then posted the tweet with the video they had made.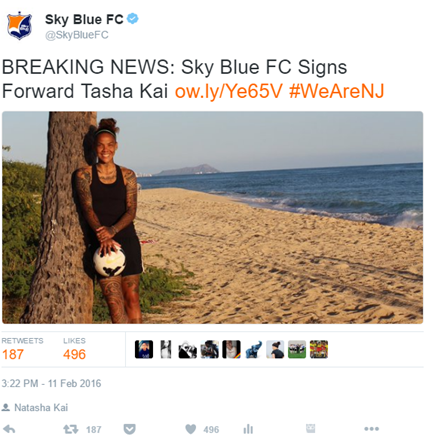 "The entire Twitterverse and women's soccer community basically lost their minds at this point," John says. "One, they could not believe that we had gotten Tasha Kai out of retirement and back onto our club. But more importantly, the way we did the announcement made it so much bigger. We directly involved the fans and had them do the announcement. Everyone had to be dialed in at 3:00 PM to see who the player was. Then when we made the post, it created a mad rush of people who were trying to get through the video to figure out who it was and then get to their own Twitter page to tell everyone."
I find it particularly interesting that the club did not send the press release out to the media for another 20 minutes after breaking the news on Twitter. Cleverly, they wanted the fans to have a sense of ownership and complete involvement in the announcement.
After the announcement, Tasha spent hours responding to all of the fans on Twitter, and John did the same with the team account. "Every time I refreshed our notifications, we had hundreds of new ones," John says. "The buzz did not slow down for an instant the entire day and carried into the next few days and even weeks."
Well played John and Tasha. Many thanks for sharing with us.