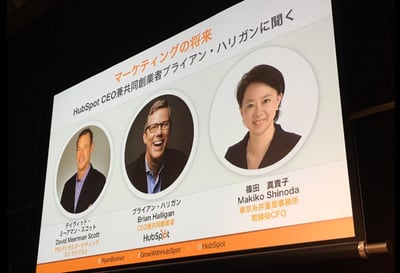 Last week, I was in Tokyo for the HubSpot Japan office opening events. The week culminated with "Grow with HubSpot" where hundreds of marketers from Japan gathered to learn about Inbound Marketing and HubSpot. It was great to be back in Japan where I lived for six years early in my career.
Back in the pre-Web days, I built two businesses in Japan. I started the Japan office of Wrightson Associates and grew it to profitability in less than a year. I then joined the late, great Knight-Ridder Financial as Asia Marketing Director and helped grow the Japan business from startup to about $20 million in revenue.
The highlight of #growwithhubspot for me was my discussion on stage with Brian Halligan, HubSpot CEO and Makiko Shinoda, CFO of Hobo-nichi, a Japanese web content provider. We discussed inbound marketing in Japan, a subject I've given a lot of thought about in the past years.
Brian also lived in Japan to build a business too so we had fun comparing notes about our Japan adventures. It turns out Brian and I both love the Japanese people, Sumo, Japanese food & beer, and Japanese toilets.
While marketing is different today because of our ability to reach people with Web content and social networks, marketing strategy fundamentals and the Japanese marketplace are remarkably similar to what I experienced 20+ years ago.
Marketing in Japan: Similarities and Differences vs the U.S.
Japanese marketers still strongly believe in the power of traditional advertising and traditional media relations.
While marketers in other parts of the world have begun to adopt Inbound Marketing—the art and science of reaching people through content and social networks—in Japan this is still rare. Japanese marketers invest tons of resource with the big advertising agencies.
Japanese business culture is much more hierarchical than in other markets I've worked in, especially the United States.
As such, Japanese marketers are less willing to take risks for fear of making a mistake and losing face in their company. Too many public mistakes is bad for one's career, so the safe approach is to avoid risk. For this reason, Inbound Marketing is still rare because it is seen as much more risky than hiring a big agency. To paraphrase an often-repeated quote: "No one ever got fired for hiring Japan's largest ad agency Dentsu."
Given the two points above, Japanese marketers jumping into Inbound Marketing have lower barriers to success.
Because competition for mind space, social networking reach, and search engine results is less, for those who jump in the potential for a big success is higher than many other markets.
In Japan, Yahoo has bigger market share than Google and is really important for Japanese marketers to understand.
In the U.S. and other worldwide markets, Google is the primary search engine. In many markets, optimizing for Google is enough. However in Japan, yoiu must get found on Yahoo.
While a large number of Japanese are active on social networks like Twitter and Facebook, many Japanese people don't like to show their real personas.
Therefore a very large percentage of Japanese people use anonymous social profiles with dogs and cats and manga characters as avatars and they don't use their names. This presents a problem when you are using social media for marketing. The good news is that there is an extremely active group of people who do put themselves out there, so in many markets you can find a niche on social networks.
The English language market in Japan is a market in itself.
There are tens of thousands of Gaijin (foreigners) working for multinational companies in Japan who use English as their primary language like Brian and I did when we lived in Tokyo. While many Gaijin have learned the language, very few of us read the difficult Kanji characters. For that reason, English language versions of software products like HubSpot can be sold in Japan and I always recommend treating the gaijin market in Japan as a specific buyer persona. The two companies I helped grow had significant international clients in Tokyo, about 25 percent of the total business.
Yes, marketing in Japan has differences. But there are tremendous opportunities for companies like HubSpot who make the leap.
Photo by the amazing Masaki Ishitani, Japanese Inbound Marketer extraordinaire.