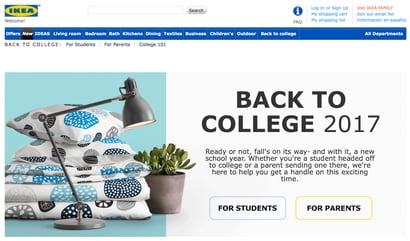 I love the Back to College 2017 microsite from IKEA. It's a wonderful example of the concept of buyer persona based content marketing. "An empty nest shouldn't empty your wallet. For parents and students alike, college moving day is bittersweet. But sharing the experience together is a chance to make memories."
Unlike most ecommerce websites that organize solely around products, IKEA offers multiple ways to choose the stuff that's needed to go off to college. On the IKEA College 2017 site, there is a very clear difference between the content for students (aspirational in focus) and the content for parents (very practical).
Understanding buyers makes your marketing come alive
Smart marketers understand buyers, and many build formal buyer personas for their target demographics. It can be daunting for many of us to consider who, exactly, might be interested in our products and services and is visiting our site and checking out our content. But if we break the buyers into distinct groups and then catalog everything we know about each one, we make it easier to create content targeted to each important demographic.
At IKEA, instead of just having a list of products, the company identified how best to organize and showcase what's available.
For Students: Declare your style.
The students' landing page says: "We believe that college should be your time to be unapologetically yourself, to try new things and express your point of view. Good thing you can do all that from the comfort of your room (and you won't have to dip into your graduation money doing it)."
There are different product styles to choose from including Playful Pastels, Laid-Back Boho, Urban Minimalism, Rustic & Adventurous, Preppy Chic, Tech-Inspired, and Casual & Athletic.
I find this a fascinating approach. Instead of just showing some shelving and bedding, the students are shown different complete dorm rooms so they can start from an aspirational concept. Then, drilling down, gets to the individual products in that look.
For those who haven't developed their own personal style yet, there is a simple interactive quiz: How should you decorate your college space? I like that the quiz is all visual, just choose which vacation you prefer or which pet is best. It takes just a minute. (I took the quiz and it says I am "Casual & Athletic".)
For Parents: Empty nest, full wallet.
This is what parents are shown: "Your child may be flying the coop, but it doesn't have to cost you. Stock up on everything they need for a fully equipped college space—knowing they're comfortable and safe will help ease the transition for both of you."
Unlike the students' landing page, which is all about style, the parents' landing page is organized around practicality. Parents know the kids will want sheets, towels, a study space, and storage and the IKEA products all or organized and ready to be chosen.
There's a downloadable PDF IKEA College Checklist.
The kids choose a style, the parents make sure they are properly equipped.
I love this example of buyer persona based content marketing. I'm quite sure IKEA will sell more this college shopping season than if they just presented a catalog of stuff to choose from.