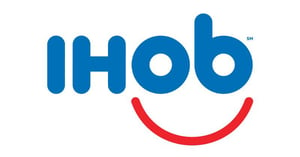 Social media exploded with the news, released June 4, that IHOP (International House of Pancakes) was to change their name to "IHOb". Yesterday they announced they aren't really changing their name. They were lying. It was just a marketing ploy. Ugh.
IHOP announced the "name change" on June 4, 2018 with a new verified Twitter feed at @IHOb and the announcement:
"For 60 pancakin' years, we've been IHOP. Now, we're flippin' our name to IHOb. Find out what it could b on 6.11.18. #IHOb".
Many IHOP fans were concerned
People wanted to know: What's going on with the brand we love?
Thousands of fans thought the name change was true and they didn't like it one bit.
Fans said things on social media like:
"IHOP is changing its name to IHOB and while people think it stands for "breakfast" I'm putting my money on BETRAYAL"
"just found out ihop is changing their name to ihob and I feel like many of my constitutional rights are being violated"
"IHOP JUST CHANGED IT'S NAME TO IHOB?! THEY ARE FAMOUS FOR PANCAKES, MAN. PANCAKES!"
Others said things on social media specifically calling out the marketers involved:
"International House of Bad marketing decisions"
"I want to be a fly on the wall at the marketing meetings"
"Dear @IHOb Changing from a proven business model and going in a new direction is a great idea. Regards, New Coke"
"IHOb" even retweeted an image of a crane replacing an IHOP sign with an IHOb one, making the idea that they really are changing their name even more plausible.
Many mainstream media outlets published stories as if the impending name change were true including The Washington Post, Florida's Sun-Sentinel newspaper, Yahoo, and several local ABC and CBS network affiliated televisions stations.
Some people tried to guess what "IHOb" could mean. Many guessed "International House of Bacon" and "International House of Breakfast". Others got cute, suggesting weird things like "International House of Bjork" and "International House of Bitcoin". Chiquita tweeted "International House of Bananas" and the musician Brian Eno tweeted "International House of Brian Eno".
Then, yesterday, IHOb, er… IHOP let the world know the answer. "Just kidding!"
They aren't really changing their name. It was simply a way to get social media talking about the fact that you can go to IHOP for more than just breakfast and, oh yeah, now we have burgers too.
It turns out that for IHOP, lying is a marketing strategy
Is lying in public is so widespread in America in 2018 that marketers feel compelled to use it as a ploy to get attention?
And don't even get me started about politicians! It seems that nobody believes what our leaders say. It's like theater. When they run for election, they make promises that voters know they won't keep. And when they get to office they say anything they want.
Here are other statements that I frequently see that I simply don't believe anymore.
Your call is important to us.
Due to higher than expected call volume, your wait time is longer than normal.
We love our customers.
This is the best price I can offer.
Sure, this IHOb thing was just a marketing stunt. You might say "Lighten up, David. It was funny." Yes, it certainly got attention.
But the idea of messing with the truth when communicating with the fans of your company and its products isn't good marketing. It's deception.
Newsjacking IHOb
Of course, the burger chains got in some clever newsjacking. Burger King even changed their name on social media to Pancake King.
It seems to me that they're all laughing at IHOb, not with IHOP.
Remember when you were like 7 and thought changing your name to Thunder BearSword would be super cool?
Like that, but our cheeseburgers are still better.

— Wendy's (@Wendys) June 11, 2018
👦: Grandpa, do you remember the Great Burger Wars?
👴: lol no I was chillin drinkin milkshakes and trying to make sense of Westworld

— Denny's (@DennysDiner) June 11, 2018
As much as we love our pancakes, we'd never change our name to Whatapancake

— Whataburger® (@Whataburger) June 11, 2018