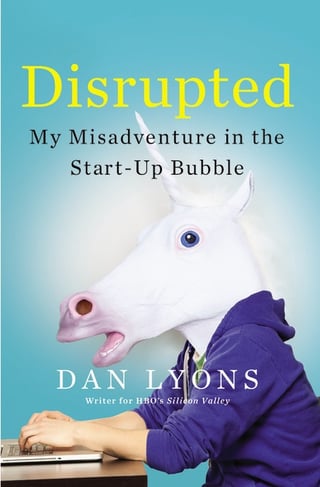 I read a copy of Disrupted: My Misadventure in the Start-Up Bubble by Dan Lyons which I purchased on eBay from a bookseller in California. The book will officially release on April 5, 2016.
Disrupted chronicles Lyons' employment as marketing fellow at HubSpot from April 2013 to December 2014.
Here are my takeaways from Disrupted.
Things Lyons seems to like:
Being told what to do
Dirty jokes
Hollywood
Job titles
Journalists
Lifetime employment
Microsoft
The New York Times
Newsweek
Organizational charts
Poop related stories
Steve Ballmer
Vaping cannabis oil
Working from home
Things Lyons is critical of:
Acronyms
Airbnb
Amazon
Apple
Beer
Ben Horowitz
Blue Bottle Coffee
Box
Brian Halligan's dancing
Buyer Personas
Candy
Christian Louboutin Cloud Walker shoes
Chunky eyewear
Conquering fear
Conversion rate optimization
Customized Bose QuietComfort 15 headphones
Deepak Chopra
Dharmesh
Dreamforce
Dressing up for Halloween
Elephants
Exclamation points
Fun at work
GitHub
Gmail calendar invites
Google
Guinness World Records
Hackathons
Hiring high potential people
HubSpot Culture Code
HubSpot ebooks
HubSpot TV
HubSpot blog
HubSpot Board of Directors
HubSpot logo
HubSpot receptionist
Inbound 2014
Inbound Marketing
Inside sales
Jack Dorsey
Jeff Bezos
John Doerr
Kayaking on the Charles River
Kitchens
Kleiner, Perkins, Caufield and Byers
Lead generation
Marc Andresseen
Marc Benioff
Mark Zuckerberg
Marketing
Meetings
Metrics
Mexican hats
Nap rooms
Nerf guns
Netflix
Newsweek
Numeronyms
Open calendars
Open seating plans
Orange (the color)
People in their twenties
People who attend technology conferences
People who played sports in college

Personality Assessment tools

Public Relations
ReadWrite
Reid Hoffman
Role playing
SaaS business models
Salesforce.com
Salespeople
Scavenger hunts
Scott Kirsner
Shoulder length hair
Skateboards
Skinny jeans
Snapchat
Startup business models
Teddy Bears
The Boston Globe
The Prime Minister of Haiti
Tom Bergeron
Transponder bracelets
Twitter
Uber
Unicorns
Venture capitalists
Young women
Zillow
Disclosures:
1) Like Dan Lyons, I am also a man in my 50s. However I get along well with young people.
2) I have been an advisor to HubSpot since 2007 and I am also a customer - the blog where I originally published this review and several of my websites are built on the HubSpot platform.
3) HubSpot CEO Brian Halligan is a friend and we co-wrote Marketing Lessons from the Grateful Dead together. I also wrote the forward to Inbound Marketing, co-written by Brian and HubSpot co-founder Dharmesh Shah.
3) I met with Dan Lyons several times while he worked at HubSpot. He wrote a review of my book Marketing the Moon for the HubSpot blog.