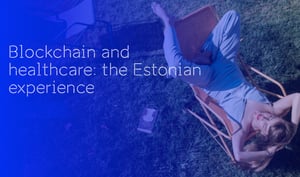 Several years ago, I delivered a presentation in Tallinn, Estonia and I distinctly remember how plugged in the society was at the time. I enjoyed lighting fast free WiFi that was way better than what I had in Boston and the business leaders I met with were focused on digital first. We can all learn from the Estonia example, especially the way the country has deployed blockchain to manage healthcare and other aspects of everyday life.
Since the Facebook data hacking scandal, I've posted several times on the situation as well as potential alternatives. First, I shared that I no longer trust Facebook and last week I proposed a blockchain based social network as the solution, but clearly that's a long way off.
Many people reached out to ask me about what such a system might look like.
In a social network built on blockchain, every user controls his or her data and can choose to sell or buy attention (or not). In the same way that the blockchain is disrupting the banking system by bypassing it with cryptocurrency like Bitcoin and others, a new way to organize social connections is possible, bypassing the established social networks that serve as a clearinghouse between people by monetizing our attention with advertising.
Blockchain and healthcare: the Estonian experience
Rather than health records controlled by a health insurance company or a doctor, every person in Estonia who has visited a doctor now has an online e-Health record built on blockchain technology that can be tracked. Identified by the electronic ID-card, each person's health information is kept completely secure via blockchain technology.
The resulting e-Health Record is a nationwide system integrating data from Estonia's different healthcare providers to create a common record that each person owns, they can access online, and they can choose to let others (such as healthcare providers see).
Doctors can see accurate health records quickly in the case of emergency even if a patient presents at a hospital other than where their primary care doctor works, giving emergency care teams access to time-critical information such as blood type, allergies, recent treatments, on-going medication, X-rays, visit and the like.
97% of patients have countrywide digital health record secured by blockchain technology
95% of health data is digitized
99% of prescriptions are digital
100% of healthcare billing is electronic
Social Media on Blockchain
I'm imaging a future where each person has a social record sored digitally on the blockchain just like Estonia health records. Each of us can choose who we want to share that social record with by establishing a connection with them, just like people in Estonia do with their doctors. We'd be able to sell attention to brands or advertisers we trust. Here's an excellent report on Blockchain Identity Management from CB Insights if you want to learn more.
And if such a world is indeed created, it would bypass the for-profit social media companies that are serving that role today.