After I delivered a talk called "Business Lessons from the Grateful Dead" to a group of enthusiastic company leaders at YPO, I had a chance to spend some time with David Duncan CEO of Silver Oak Cellars, a producer of delicious and distinctive Cabernets from Napa Valley and Alexander Valley, California.
Duncan told me about the importance of social media for his winery and how they communicate with the passionate fans of his wines. Like other CEOs active on social networks who I wrote about in my recent post The #Social CEO Drives Business for their Company, Duncan is an enthusiastic supporter of content creation and social media engagement at his company.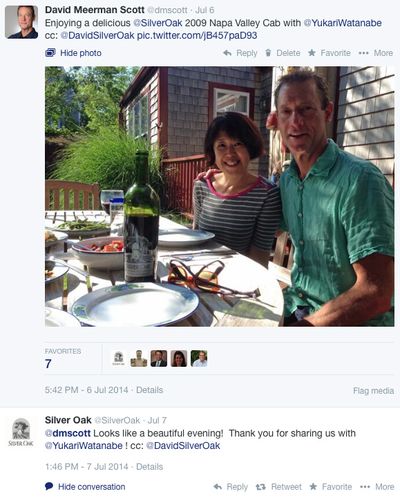 I saw this in action a few weeks ago, as I enjoyed a delicious bottle of 2009 Silver Oak with my wife @YukariWatanabe. When I tweeted the photo evidence, @SilverOak responded, unlike many brands that I try to engage with on social networks who don't respond to me at all like, say, Ritz-Carlton Hotel Company.
When I dug a little deeper by checking out the @SilverOak Twitter and Instagram feeds, Facebook page and YouTube channel, I noticed that Silver Oak isn't just pimping products. Rather they authentically engage with people who are current or potential fans of the wine and who are enjoy interesting experiences with a bottle (or two).
Below is a little of my conversation with Duncan about how he encourages social engagement and also some background from Ian Leggat, director of marketing and public relations for Silver Oak.
Silver Oak Bottle Stories
"Mostly what people post is their experiences with the wine," Duncan says. "I get to hear literally hundreds and hundreds of stories throughout the year about people getting engaged, people celebrating a birth, celebrating somebody's life, or just having pizza on a Thursday night. We're very fortunate that our business is to make a product that is used for special occasions, be it from the largest occasions in somebody's life to something mundane but special, and we encourage people to share their experiences with our wine."
Silver Oak is an expensive bottle, a bit under USD $100 and up depending on the vintage and where you buy it. What I've noticed about other high-end wines is the branding plays off a snobby appeal. Sometimes wineries play "hard to get" - making wines scarce to increase the perception of value. Silver Oak does the opposite. The wine is ready when you want it.
"We like to think of Silver Oak as wine for special occasions," Duncan says. "It's available. You can buy it at your retailer and you can buy it at the restaurant. It's an expensive bottle of wine, but it's not an out-of-reach bottle of wine. We treat culture really seriously like the culture of the Grateful Dead. We've done a lot of work with the winery to determine who we are, what it means, how it feels. Fortunately, our employees get it and I think it comes through in social media, particularly on Twitter and Facebook.
How Silver Oak grew on social media
In 2008, Duncan had an opportunity to entertain Jack and Suzy Welch at the winery. "We had a three-hour lunch and Jack just grilled me the whole time, like a second MBA. He asked things like: 'How do you pay your salespeople? Who is on commission?' And at the end of the lunch, Jack says: 'What's your Twitter handle. I will tweet that I was here.' This is when Twitter was getting to be a big deal. I said: 'I think it's @silveroak.' And Jack said 'What? You're not on Twitter? I have one million followers. This is the most important thing that's going on right now. You need to be on this.' That day we had six followers on Twitter. Jack Welch tweeted out that he had a fantastic lunch at Silver Oak and the next day we had 75 followers on Twitter. Then I went to our team, and I said: 'You guys, we got a get on this!' Since then, we've really focused on social. We've got as big a social media presence as any winery of any size, whoever you pick."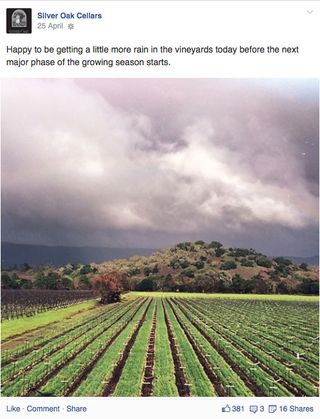 I like the way Silver Oak uses beautiful images to share on social media. There are frequent shots of the vineyard, buildings, and people who make the wine. It makes me want to visit the winery and try more of their wines!
When I discuss companies engaging with customers on social networks, many CEOs push back and want to know about ROI. It's a fear-based response to the unknown. Spending time doing this all sounds and feels nice to CEOs but many are reluctant to dive in. I asked Duncan about this because he went all out in social media after Jack Welch told him he needed to.
"I think it's quite simple," Duncan says. "In the wine business, if you're paying somebody, say, $75,000 per year to be a social media manager and that means you're engaging individually and having a conversation with 12,000 customers, that's value. But how much does it cost to buy a full-page ad in Wine Spectator or the Robb Report? It costs $75,000 an issue! If you think about it in terms of your advertising budget, you can have real impact. I may not be able to tell you a direct rate of return to my bottom line, but I can tell you are sales are off the charts right now."
Building social media into the company
"Social is important because it gives us a chance to listen," says Ian Leggat, director of marketing and public relations at Silver Oak. "More than anything else, we look for social signals to get a temperature check on our brand and to understand what are followers are excited about."
Partly because Silver Oak has been active on social networks for six years and partly because they use the channels to actually engage with customers rather than try to sell products, the company has build a strong presence.
"We have probably the most passionate fan base of any wine that I'm aware of and we cultivate evangelists through our social media channels and help celebrate them," Leggat says. "Our strategy has evolved over the years to be less about pushing content out and more about facilitating dialogue in our social channels and reaching out to influencers and pulling them and to those conversations. What we really care about is not adding followers as much as the conversations that we have with them, and creating the kind of content that facilitates sharing."
And people do share, based on the number of likes and shares on Facebook and people who engage with Silver Oak on Twitter.
"The Silver Oak brand is very much linked with special moments and all we are doing is facilitating people to share the special moments and be excited about them," Leggat says. "Silver Oak is the wine that you drink to celebrate the birth of a child, to celebrate an anniversary and all we are really doing is creating an outlet for those stories to get told. Last fall we were developing our print newsletter, and we reached out on Twitter to get a couple of these bottle stories in 140 characters or less. Some of the things that came back to us were so powerful. We had one where someone had waited out Hurricane Sandy with a bottle of Silver Oak and a flashlight. That's all she had. We had someone who ordered a large format bottle of Silver Oak in place of a wedding guestbook and just had people sign that bottle of Silver Oak and make this beautiful keepsake in their home. They wanted to take that picture and share with everybody. For us, it's really just maximizing the social capital that we have among the very engaged base."