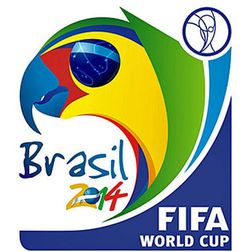 The FIFA World Cup is thought to be the most widely viewed and followed sporting event in the world, exceeding even the Olympic Games. The cumulative audience of all matches of the 2006 FIFA World Cup was estimated to be 26.29 billion with an estimated 715.1 million people watching the final match.
At the World Cup Finals, where 32 teams are now competing in various venues in Brazil for the title, social networking is proving to be a fascinating way for a global audience to come together while supporting their favorite teams.
Social networking and the global World Cup audience
Last week I was in Winnipeg, Manitoba, Canada for a speaking engagement and had an opportunity to catch the Japan-Greece match while enjoying a meal at Hermanos South American restaurant. How about that for an international evening?! As I lived in Japan for seven years, I felt an affinity for the Japan side and followed the action on both television and Twitter.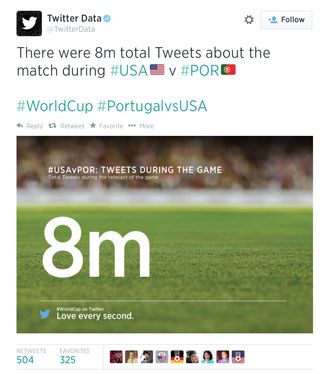 A few days later, back at home in Boston, I enjoyed Sunday's match between USA and Portugal. Well, at least I enjoyed it until the last 30 seconds.
According to Twitter, there were 8 million tweets about the USA vs Portugal match as it was happening. While that's not as many as the 24.9 million tweets during the 2014 Super Bowl (including pregame, halftime and postgame), 8 million tweets during just one match multiplied by many matches means the overall World Cup is likely to be the most social interaction of any event in history.
A CNN report says there have been 459 million posts, likes, and comments so far about the World Cup, which is far higher than 185 million interactions about the Super Bowl and 120 million for the Sochi Winter Olympics.
These huge numbers for the World Cup are driven by the global nature of social networking today, with well over a billion people using Facebook and hundreds of millions using Twitter around the world.
Go Team
It's interesting to note that many of the top countries in social media usage are also teams that are in the World Cup Finals. According to the recent Sysomos report Inside Twitter: An In-Depth Look Inside the Twitter World, the top 10 countries on Twitter based on number of Twitter users are: USA, UK, Canada, Australia, Brazil, Germany, Netherlands, France, India, South Africa. All but Canada, India, and South Africa are in the World Cup.
While social networks bring the world together for the month of World Cup mania, it also allows fans to show their allegiances.
Indeed, Twitter has created "hashflags", a cool feature that displays a nation's flag when someone tweets a hashtag for one of the world cup teams such as #USA or #POR (Portugal).
Okay, time to show my colors: Go USA! Go USA! Go USA!