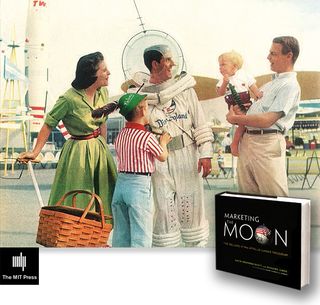 My book Marketing the Moon, which I wrote with Rich Jurek and with a forward from Gene Cernan, the last man on the moon, has now been out for about a month.
The book has gotten off to a terrific start. We were interviewed by Kai Ryssdal for a five minute segment on NPR Marketplace which aired on Monday; the Wall Street Journal featured the book with a half page in a Weekend Edition; we scored a coveted one sentence review in the New York Times Sunday Magazine "U.S. government goes 'Mad Men' on Apollo, gets it right"; and many other bloggers and media outlets have written about us including Gizmodo, Brain Pickings, and the Boston Globe.
We continue to work with Robert Stone, an Academy Award nominated filmmaker who is working on a documentary based on the book.
While these are indeed exciting developments, one of the things that Rich and I worried about the most with this book was how the people who worked on Apollo in the 1960s and 1970s would react to it.
Would the journalists who covered the story at the time agree with us? How about the public affairs staffers from NASA and the PR people from the contractors, would they appreciate our take on the story? And what would the astronauts who were in many ways the "product" of the marketing efforts, many of whom we interviewed for the book say?
"Marketing of Apollo may be the only marketing effort remembered of our generation. It was epic."
It is immensely gratifying as authors that so far everything we've heard from those who worked on Apollo has been enthusiastically positive.
For example Ed Buckbee, who worked on Apollo and has been associated with the U.S. missile and space programs for five decades, wrote this review:
It's finally been written, how a bunch of government-types who never worked for the government managed to market and create a brand known as NASA with the mission, "We choose to go to the moon," and we did. Twenty-four American astronauts flew from Planet Earth to the moon and twelve astronauts walked on the moon. It was done with the press and everyone watching around the world.
A new book entitled, "Marketing the Moon," by David Meerman Scott and Richard Jurek is just out and it is a must read for all who followed manned space flight in the 60's and 70's. Journalism students who missed that era might want to download it between classes.
Little did we know that this governmental agency — NASA — would create a relationship with the press that has not been matched, certainly not by another government agency. We in NASA operated within the statute of an agency that "must provide the widest possible dissemination of information to the public."
At times it was a struggle to convince engineers who ran the agency, that we must be transparent, we were not a skunk works nor a black-ops program. NASA was different. Many thought NASA was not a part of government but a bunch of nerds taking us on fabulous journeys into space. We had a saying, "late to bed early to rise, work like hell and advertise!" Marketing of Apollo may be the only marketing effort remembered of our generation. It was epic.
Having worked for Wernher von Braun, at NASA's Marshall Space Flight Center, I can assure you he never turned down a request from the press. In 1968, Richard Lewis, Chicago Sun Times science writer, was invited to witness a Saturn static test firing. When informed he was coming von Braun said, "a very nice constructive man. I would like to meet him." Von Braun was a PR man's dream.
Houston had the astronauts but Huntsville had Wernher von Braun. And that made all the difference.

Ed Buckbee, an author, lecturer and historian, has been associated with the U.S. missile and space programs for five decades. Buckbee began his career in 1959 as a U.S. Army officer at the Army Ordnance Missile Command, Redstone Arsenal. Al. and later, joined NASA's Marshall Space Flight Center as a public affairs official. He is director emeritus of the U.S. Space & Rocket Center and founder of U.S. Space Camp. Buckbee worked with the von Braun team for fifteen years. As the Space Center's first director and curator, he established the Wernher von Braun collection and has collaborated extensively with historians in the U.S. and abroad. Buckbee is widely known in the U.S. as an advocate of human spaceflight.