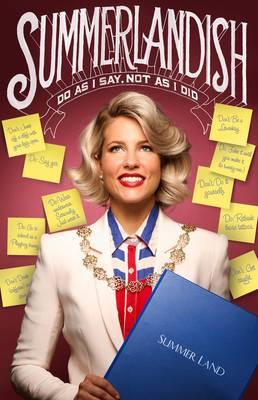 Two years ago I wrote a post titled How to get a book deal where I outlined my thoughts on how to convince a major publisher to take on your work. The example I used was Summer Land - who I met at one of my talks in Sydney, Australia - and who took my advice and did the hard work required.
It's therefore remarkable for me to deliver huge congratulations to Summer on the publication of her book, a memoir Summerlandish: Do As I Say, Not As I Did exactly two years after my post!
Buy the book in Australia
Buy the book delivered to the rest of the world
How to get a book deal
Here is a greatly simplified version of the four steps I told Summer as I mentioned in my post two years ago. Summer followed these steps.
(I'm already assuming you can write and are a good storyteller).
1) Unless you are already famous, you must publish yourself first. You need to publish your stuff in a blog or an ebook that you give away.
2) You must build an audience. You need to get your stuff out there and get people interested. Your platform might be through video, blogging, or other ways. This takes a lot of hard work.
3) You must get your fans to help you by creating content that's worthy of being shared.
4) Then you take your success to publishers. Believe me, if you've built an audience of people who love your work and share it and you can show that success, publishers will be eager to work with you and to cut a book deal.
Working with a major publisher is not for everyone
My first hardcover book was self-published. Obviously there are many routes to publish your work and working with a major publisher is not the only way. You can self publish in print or in ebook format, or you can go with a small publisher. I've done all of these routes. Clearly there are many ways to get your work into the marketplace.
Summer wanted to go with a major house, so she followed the advice in my post.
Success comes from hard work
"Because I am incredibly impatient and like for things to happen overnight, I didn't want to send the standard query letter and wait," Summer says. "I took David's advice and decided to release an ebook to drum up a following and hopefully have publishers come to me. I gave it away for free, no email required."
Summer says that although a lot of people did download her ebook, she didn't gain thousands of Twitter followers or Facebook fans and publishers weren't knocking down her door. "I did however gain a steady readership of my blog and got a call from an agency in LA who were interested in the TV rights to my future book," she says. "This was amazing, but I didn't want to lose sight of my first goal which was to publish my book."
In May 2012, Summer attended the Sydney Writers' Festival. "At their event, So You Think You Can Write, I decided to pitch my book to a panel of publishers who were there to provide constructive criticism," she says. "When I pitched, I didn't just tell what it was about. I explained who would buy it. I also told them about my download numbers, which were a huge appeal. Luckily for me, they said really positive things!"
As soon as the event was over, she was approached by an editor from Hardie Grant. They went through the typical author publisher dance resulting in a contract and a year later the book on the shelves.
Summerlandish
"It was important for me to remember what I ultimately wanted to achieve from my book," Summer says. "The main goal of my memoir, Summerlandish: Do As I Say, Not As I Did, is to make people laugh and think 'me too!' I share stories from my life that are awkward, embarrassing, outlandish and sometimes mortifying. However, I feel that it's all relatable. No one escaped childhood and I think we're all getting over our miserable high school years one glass of wine at a time. If this book can make someone laugh while on vacation or on their morning commute, I'll be forever happy. I think by saying the things that people are afraid to talk about, we all feel better about ourselves."
One of the most rewarding things about what I do for a living is, in a small way, to help people achieve their dreams. All I do is provide an idea, or a spark, or a little motivation to those who read my books, my blog, my free ebooks, or hear me speak. Then those people do the hard work required to market their business or their idea. Whenever I learn that someone has achieved success as a result of something I suggested, it makes my day (or my week).
It's great that Summer attended one of my talks in Sydney, Australia a few years ago. Its terrific that she approached me to get some ideas on how to get her book in front of publishers. But more than most people, Summer actually took the advice and made a success. She did the hard work.
Thanks, Summer, for sending me a copy of Summerlandish. I enjoyed it very much. The opening story is hysterical even the third time I read it. My wife kept wondering why I was giggling as I was reading.