One of the best parts of being active on the global speaking circuit a chance to learn from marketers working in a wide variety of businesses.
Yesterday I delivered a keynote speech at the Oticon Marketing Boot Camp. Oticon is based in Copenhagen and is the oldest hearing aid manufacturer in the world. The Marketing Boot Camp is a gathering of 200 hearing care professionals, Oticon staff, and outside speakers.
What do you think of when you consider hearing aids?
I think of skin-tone colored instruments that people use but they want to hide. Usually, needing a hearing aid means you're getting old and few people want to be reminded of this fact.
What I found absolutely amazing is how Oticon reinvented a product category that is more than 100 years old by turning the instruments that people wanted to hide into a fashion statement!
In 2006, Oticon introduced the Delta model. It was revolutionary because it was produced in multiple color choices. Suddenly wearing a hearing instrument allowed people to express their personality.
The Oticon Delta product took off and soon people were asking for it by name because they saw a friend wearing one. Imagine that—a product category that many people were ashamed of transforming into one that people were proud to flaunt.
With the bold introduction of the Delta model, Oticon created the new designer category of hearing instruments. The move changed the entire industry. Other companies in the market were forced to play "me too".
In the years following the Delta launch, Oticon has launched new models, including the current Intiga line with multiple colors and styles.
Interestingly for you tech geeks, Oticon hearing aids can be synched to work with other devices such as an iPhone, computer, television and landline phone, pumping the sound directly into the hearing instrument. I never knew that!
Reinventing your product category
Think about your own product category. What can you do to take something that has always been done a certain way and transform it into something that people are eager to buy and to show off?
In America, takeout coffee had always been bad and indistinguishable between delis offering the stuff. Heck, when I lived in New York City in the 1980s, all the delis used the same WE ARE HAPPY TO SERVE YOU paper cups.
Then Starbucks reinvented coffee.
Bob Marley's Legend reinvented by EDM artists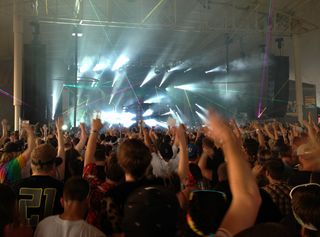 Or how about a reinvention of a classic album using current music styles? Bob Marley's record label Tuff Gong, now run by his family members, worked with hot Electronic Dance Music artists to reinvent Bob Marley's Legend, one of the greatest selling albums of all time, with an official remix album.
I love Bob Marley (my photos of his last concert were used in last year's Marley movie). I also am becoming a fan of EDM. I caught Pretty Lights on Saturday night in Baltimore for example. Pretty Lights is one of the artists on the Legend album. So I had to pre-order the Legend remix.
How are you reinventing your product category?
Direct link to Bob Marley's Legend meets EDM with official remix album on YouTube.
Photo of Pretty Lights at Pier Six in Baltimore on June 8, 2013 by David Meerman Scott.