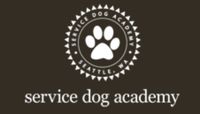 You could hardly ask for a more dramatic example of how near zero-cost videos can expand reach and drive business. And it all started because Mary McNeight identified a problem that no one online was helping people solve.
When Mary couldn't find anyone in the Seattle area who would help her train her own dog Jasper for service work, it fell to her to teach her pet to be her service dog. Service dogs that help people manage disabilities like blindness and diseases like recurrent seizures and diabetes.
Later, she enrolled in puppy classes to train Liame, her new Labrador retriever puppy. In the process, she became addicted to dog training—so she made it her business.
Mary spent countless hours learning all aspects of the business, got her accreditation from the Certification Council for Professional Dog Trainers, and is now owner and director of training and behavior at Service Dog Academy. This business offers private training sessions and small-group adult-and-puppy training classes for both service and pet dog training. They even offer a groundbreaking train your own Diabetic Alert Dog program.
Content marketing and video production
But credentials, skills, and even passion alone don't bring in customers. Her excellent website (featuring dozens of videos that she shot and edited herself) educates buyers and generates high search-engine rankings, driving business her way.
"I've gone from barely having any students to getting anywhere from twenty to forty emails per day requesting my services and advice and verbally praising my work," Mary says. "If that isn't a story of success, I don't know what is. I have the power to create an audience for any product or service I put my mind to. But I think I will stick with what makes me happiest, helping dogs and the disabled live more productive lives."
In 2010, Mary started making YouTube videos with an inexpensive Flip Video camera and the software that came installed on her Mac notebook computer. "Seeing a need for my students to understand how to make a Kongsicle, I produced my first instructional video," Mary says. Kongs are natural rubber-food puzzle toys for dogs, and a Kongsicle is a Kong with frozen food inside. The video is titled Best Dog Food Puzzle: The Kongsicle.
"A couple of months later, I went to the Association of Pet Dog Trainers conference, and I was startled by a young trainer who said, 'You're Mary McNeight right? You made that video on Kongsicles! I use it as a reference video for my students.' Here was this dog trainer in Florida using my materials for her classes. That was the day I understood the power of YouTube." Since then, Mary has made many instructional videos, with titles that include "Diabetic Alert Dog Scams," Puppy Doggie Ants in the Pants, and a multi-part series on diabetic alert dog training.
The content on the Service Dog Academy site, including the video series, is created for three buyer personas: pet dog owners, service dog owners, and people who want to train their own diabetic alert dog. After her initial success, Mary purchased a $400 HD video camera, a $20 microphone, Final Cut Pro software, and, as she describes it, "some funky alien-adjustable-arm-looking lights at Home Depot, since I couldn't afford to light my videos with professional lights. The really cool thing about my content is that it proves that it doesn't have to be shiny, flashy, spiffy or cost thousands of dollars to produce. People will watch anything as long as its packed full of useful information."
Make it free
Mary's notoriety and search engine results are aided by her willingness to post content that others in the dog training business are fearful to post because they don't want to give away information for free. "A great success was a video on how to travel with your service dog, something nobody on the entire Internet was teaching people how to do," she says. "I also hosted a webinar that gave an overview of how to train a diabetic alert dog. I placed the webinar capture video on YouTube and was afraid of being banned in the dog training community. This information was not available on the Web because nobody wanted to share how they trained dogs for tens of thousands of dollars. I started getting emails and phone calls from people all over the world asking me for advice on training their dog or just outright purchasing my online diabetic alert dog training program. I've had dog trainers who want me to fly out to their location and teach a class on diabetic alert dog training for them.
"How cool is it that this now three-person service dog training organization is getting worldwide attention? I never would have gotten that type of exposure printing brochures or running expensive ads on local television. A couple of months ago, I even had a woman tell me the video I made saved her life! It allowed her to get enough information to help her train her own medical alert dog by herself."
Yes, Mary, it's cool. Keep up the great work and thanks for sharing your story.