Several very positive marketing and product related experiences with American Airlines suggest to me that the company is making great progress since the parent company - AMR Corporation - filed for Chapter 11 bankruptcy protection on November 29, 2011.
Telling your best customers first

Late last week I received an email from American Airlines with the subject line "Be The First To See Our New Look". The email said that they want their most loyal customers to be the first to see their new logo and the refreshed exterior of new planes. (I am a top elite-level frequent flyer and have more than 1.5 million air miles with American). The email said that in about two hours a new look would be revealed and it teased with a hashtag #newAmerican. Then, a few hours later, another email arrived with the new branding revealed together with a link to a video Becoming a new American.
I really liked this approach of letting their best customers in on the big reveal. Most large companies would announce such a change to the media first and let the new branding trickle down to customers that way. This is very smart marketing and customer service. The addition of the #newAmerican hashtag indicated to me that American is integrating with social media. Well done.
That particular day, I needed to research an upcoming trip and I noticed the AA.com website had been completely changed over to the new look. Also that day iTunes updated my American Airlines iPhone app with the new branding. Obviously, the team at American had thought through the rollout and had it timed perfectly (at least the parts that I experienced).
American was established in 1934 and the logo and branding had most recently changed in 1968, so it was a big deal to make this switch.
Improving the customer experience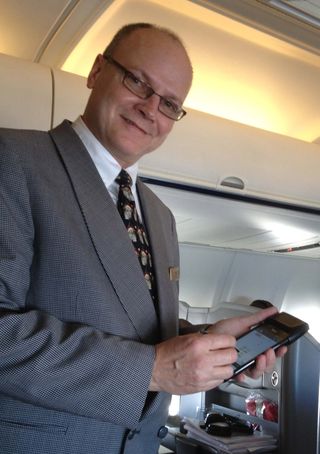 On a recent Europe trip on American Airlines, I was intrigued by the gadget being used by Frank Eschmann, who called it his "Flight Attendant Customer Experience Tablet". Turns out Frank was beta testing it and was happy to explain to me how it works.
The tablet provides details on who is in what seat and includes their frequent flyer status, so Frank instantly knew that I was among American's best customers. Passengers' onward connections are listed so when there is a delay, the flight attendants know who might need extra attention to make tight connections or rebooking.
Flight attendants also use the tablet to record passenger meal selection, which pops up as a color code while the system simultaneously records how many of each meal remains available during ordering. The in-flight announcement scripts are in the tablet as are the entire safety manual for the plane. Each of these features make it easier for flight attendants to provide good service to passengers.
The gadget is delivered via Android on a Samsung Galaxy Note with AT&T running the data and Frank said that there's email and Web interfaces so he uses it in the airports too. The gadgets are still being tested but will roll out later this year.
As a passenger, I think the availability of the tablets will benefit me. Frank says he loves using it, so anytime my flight attendant is happy, I'm happy. And the more they know about me, the better.
American Airlines and the future
While new branding and product improvements like a gadget for flight attendants are relatively minor when it comes to the complexity of an airline, these several positive experiences suggest to me that American has a bright future as they emerge from their recent troubles.