Adagio Teas is a fantastic example of a company integrating social networking into all aspects of their business.
Social sharing and crowdsourced product creation isn't something that's bolted on as an afterthought at Adagio Teas. Unlike at most companies, social networking is a critical component for driving the Adagio Teas business.
I learned of Adagio Teas from my daughter Allison who was home this weekend from University for her Thanksgiving break. She's a loyal customer and shared with me the cool aspects of how the company works.
Crowdsourced tea blends
As of this writing, Adagio Teas sells a remarkable 24,242 blends of tea. The vast majority of blends are created by their customers either for their own enjoyment (you can keep the blend private) or as one that is sold to others on the site.
Avid tea connoisseurs can search the database for a perfect blend, or like Amazon's bestseller list, browse teas based on popularity. If you like a blend, you can see what other blends that creator has made.
For example, the currently ranked #4 tea Sherlock is a blend by Cara McGee: "All at once exotic and mysterious and perhaps a little bit insane, with a lingering hint of smoke. Inspired by BBC's Sherlock, which I am in no way affiliated with. This is created purely for my own enjoyment. Ingredients: lapsang souchong, assam melody, oriental spice."
Check out the Sherlock blend listing to see the social aspects that are built in. Cara uploaded a video where she talks about the blend, there are customer reviews (187 as I write this), and social sharing including a Facebook "like" button (with 502 thumbs up), tweet this, update Tumblr, and Pin it.
The Sherlock blend is part of a theme that Adagio calls Fandom Signature Blends which also include such teas as Avatar, Big Lebowski, Doctor Who, Harry Potter, & many more.
Your tea profile
Repeat customers can create a profile to keep track of teas they enjoy most and they can also add teas they want to try.
The social aspect kicks in when you add friends to your profile. If you log in to Adagio with a Gmail account, you can instantly find out which one of your contacts also has an Adagio Teas profile. Or if you're reading a review and like someone's taste in tea, you can friend that person.
Adagio Teas on social media
With all the sharing going on with customers at Adagio, it's no surprise that the company itself is active on social networks. They have an excellent Tumblr official blog from the people behind Adagio and they are active on Twitter with @AdagioTeas, on Facebook, and other social sites.
And they really are active, using social networks to communicate with customers. The mistake made by so many other companies is just using social media like Twitter as a one way broadcast advertising channel. Not so at @AdagioTeas.
For example, recently @AdagioTeas tweeted: "We are developing a wishlist feature & would love feedback. Would you use it as a bookmark for yourself, or as a list to help guide others?"
And people love the interaction. For example, @jamieworley tweeted: "It's so cool that @AdagioTeas sends me twitter DMs to let me know where my tea shipment is!" And it is cool. I wish some of the companies I frequently do business with used Twitter DM to communicate.
Create your own blend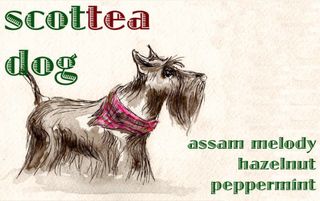 Over the Thanksgiving holiday, Allison made her own blend because she wanted to have interesting Christmas and holiday gifts for family and friends.
The Create a Blend widget is really easy to use. Many people love mixing teas and Adagio has made it fun and easy to mix different flavors to create a unique and tasty blend.
You name your creation and choose the types of teas and the percentages of each. You then have an opportunity to create a custom label that can be just simple text based or something much more elaborate. Social networking pops up again because you can upload a Facebook photo to be part of your custom label.
Allison made a hand drawing for her label, which she scanned and saved as a JPEG and then imported into Adobe Photoshop where she added text and then uploaded to the Adagio Teas app. Her scottea dog blend is "Just a cute jumpy Christmas blend of assam melody, hazelnut, and peppermint".
Points when somebody buys your blend
Another fun social aspect of Adagio Tea is that the creator of a custom tea earns points whenever a customer buys their blend. Points can be used to get discounts or free tea. This encourages social sharing by people who create blends. When your new blend is ready for sale, many people will tweet about or post an image of the label with a link on Facebook or make a Tumblr post talking about the blend.
Driving business success
By building social aspects into all aspects of the customer experience, Adagio teas drives business success. As customers talk about teas on social networks, fan their favorite blends, or even create their own to share with their friends, at each step new people learn about the company. Sure beats traditional advertising to get the word out.
I've learned a lot from this example. It's exciting to see social networking used in such a great way.
Disclosure: My daughter Allison will earn points for anyone who buys her tea. But this blog post is about sharing the great social aspects of Adagio Teas so we can all learn from what Adagio does, not about promoting scottea dog blend.