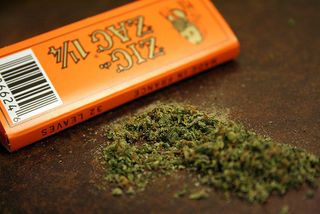 Here's proof cops have a sense of humor and that the Seattle Police understand the power of online content to educate and inform.
On Election Day, November 6, 2012, the people of Washington State passed Initiative 502 making it legal after December 6 for adults over 21 years old to possess up to an ounce of marijuana (or 16 ounces of solid marijuana-infused product, like cookies, or 72 ounces of infused liquid, like oil) for personal use.
So, Washington residents wonder, what does that actually mean for me?
I just love the post Marijwhatnow? A Guide to Legal Marijuana Use In Seattle on the Seattle Police blog SPD Blotter. The post provides a practical guide for what the Seattle Police Department believes Initiative 502 means.
Brand journalism with the Seattle PD
This is some terrific brand journalism!
Here are a few of my favorite Qs and As from the Marijwhatnow post.
Can I legally carry around an ounce of marijuana?
According to the recently passed initiative, beginning December 6th, adults over the age of 21 will be able to carry up to an ounce of marijuana for personal use. Please note that the initiative says it "is unlawful to open a package containing marijuana... in view of the general public," so there's that. Also, you probably shouldn't bring pot with you to the federal courthouse (or any other federal property).
SPD seized a bunch of my marijuana before I-502 passed. Can I have it back?
No.
What happens if I get pulled over and I'm sober, but an officer or his K9 buddy smells the ounce of Super Skunk I've got in my trunk?
Under state law, officers have to develop probable cause to search a closed or locked container. Each case stands on its own, but the smell of pot alone will not be reason to search a vehicle. If officers have information that you're trafficking, producing or delivering marijuana in violation of state law, they can get a warrant to search your vehicle.
December 6th seems like a really long ways away. What happens if I get caught with marijuana before then?
Hold your breath. Your case will be processed under current state law. However, there is already a city ordinance making marijuana enforcement the lowest law enforcement priority.
Will police officers be able to smoke marijuana?
As of right now, no. This is still a very complicated issue.
The SPD Blotter

I love the use of humor in the post. Sure, it provides valuable information about the new law, but in a fun and approachable way.
And hey, we're talking about the cops here!
The SPD Blotter began in 2008 and is maintained by the staff of Seattle Police Department Public Affairs Office.
The Marijwhatnow post was written by Jonah Spangenthal-Lee, a journalist who, as he says in his bio, covered "the always-exciting cops and crime beat at Seattlecrime.com, PubliCola.com, KIRO Television, and The Stranger."
Spangenthal-Lee joined SPD in March 2012 to tell those same stories on the department's SPD Blotter blog and publish real-time information on breaking news through SPD's @SeattlePD Twitter feed.
Isn't it great that the Seattle PD hired a journalist to write the blog and update the Twitter feed?! I've talked about hiring journalists many times over the years such as this 2009 post An open letter to journalists: You have an amazing career opportunity on the Dark Side.
Here's how Spangenthal-Lee describes his role: "As a reporter, I've stood out in the rain at crime scenes, rode around in patrol cars late into the night, and pored over police reports in order to dig up and tell stories about just what goes on inside the Seattle Police Department, and the streets of our city."
Nice. Maybe I'll have to take a field trip to Seattle to sniff around and learn more about this story.