In July 1969 the world came together to watch a grainy black and white image on television of Neil Armstrong and Buzz Aldrin taking mankind's first steps on the moon. But those who watched the Apollo 11 mission were confined to their living rooms.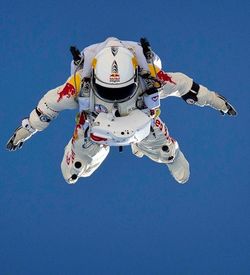 This afternoon, the online world came together to witness Felix Baumgartner break multiple aerospace records in his Red Bull Stratos mission. And we shared it with each other in real-time.
Baumgartner traveled higher in a balloon than anyone – more than 127,800 ft. – and from that height he made the highest skydive, breaking a previous record that had stood for more than 50 years. While in free fall, he traveled Mach 1.24 — 833.9 miles per hour - making him the first human to travel faster than the speed of sound without being inside a craft.
It was riveting to witness – a real-time spectacle live on the web in HD that we could share via social networks. Event organizers said more than 40 television stations in 50 countries, including Discovery Channel in the U.S. and more than 130 digital outlets carried the live feed live.
A YouTube record
Another record was broken when it was reported that more than 8 million people watched a livestream of the record-breaking attempt.
I learned about the impending jump on, where else, Twitter. When I started to watch the balloon was at about 40,000 feet so I tweeted to my followers and posted on Facebook. Millions of others did the same.
It was great to watch the live stream and also keep an eye on the twitter stream. I was emailing friends in real-time. I texted my daughter when the jump was about to happen and she texted back that she was already watching. My wife Yukari Watanabe Scott was tweeting live with many of her friends in Japan.
Witnessing history. Together.
The online community came together for an hour to witness history. I don't recall anything like it. Everyone was positively giddy. For an hour we came together over one breathtaking event.
The real-time component was magnified because the team had attempted the jump several other times. Todays attempt was delayed for a few hours. So nobody knew if and when it might happen.
Unlike an Olympic event, there was no preparing. Suddenly it was on and we were compelled to watch. We told each other via social networks. Tens of millions of us alerted each other.
That the jump happened on a Sunday (it was mid-afternoon USA Eastern time) made it easy for many people to watch live.
The jump was audacious. It was incredibly visual. It was unfolding in real-time. And we could watch it together while commenting on social networks. It was one of those "I'll always remember where I was" moments.
After Baumgartner landed, Red Bull posted a picture to Facebook of him kneeling on the ground. It generated nearly 216,000 likes, 10,000 comments and more than 29,000 shares in less than 40 minutes according to the Washington Post. At the time, half of worldwide trending topics on Twitter had something to do with the jump.
Today we saw some incredible records broken.
And we also saw the future of how we will witness real-time events.
Image credit: Red Bull Stratos