Here's a fun Friday story that comes to us via Mark Copeman.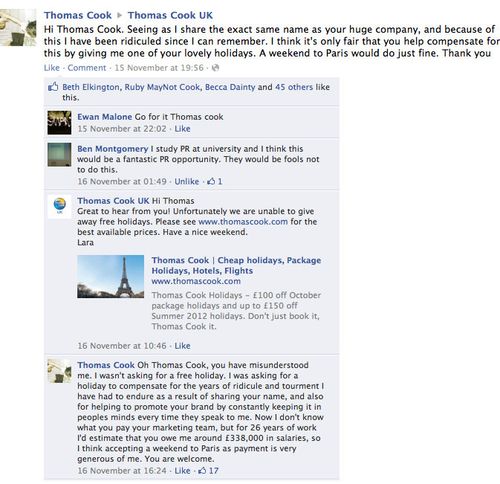 A 26-year-old named Thomas Cook posted a lighthearted message on the Thomas Cook UK Facebook page: "Seeing as I share the exact same name as your huge company, and because of this I have been ridiculed for as long as I can remember, I think it's only fair that you help compensate for this by giving me one of your lovely holidays."
When the big, famous travel agency (143,000+ Facebook likes) replied back to say "no" to the request, quick-thinking competitor lowcostholidays.com (81,000+ likes) jumped in to offer Thomas Cook (the person) a free trip to Paris.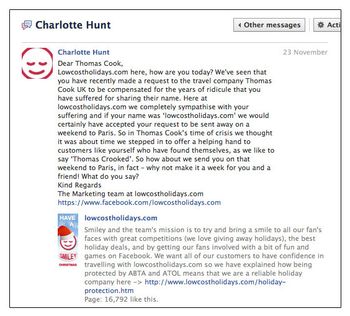 "Here at lowcostholidays.com we completely sympathise with your suffering and if your name was "lowcostholidays.com" we would certainly have accepted your request to be sent away on a weekend in Paris," Charlotte Hunt from lowcostholidays.com wrote. "...So how about we send you on that weekend in Paris?"
Thomas Cook (the person) took up lowcostholidays.com on the offer and then posted his experience. Media outlets in the UK including the Mirror picked up the story within the past 24 hours.
lowcostholidays.com has cleverly kept the meme alive with additional Facebook posts like After all this talk about Paris we thought we'd tell you a little more about why this city is so great...
Shall we call this Facebookjacking?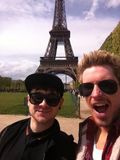 What Thomas Cook (the person) did was have some lighthearted fun on the Thomas Cook UK (travel company) Facebook page. In my opinion it was not a "demand" but just a way to poke some fun. Thomas Cook UK responded (which is good, they could have ignored it), but they failed to see the social media potential of the situation.
Kudos to lowcostholidays.com for monitoring the competitor's Facebook page and jumping in to seize the opportunity, thereby controlling the emerging meme. Maybe this should be called Facebookjacking?
When to respond. How to respond.
The challenge for companies in this new world is to figure out when to respond (and when to ignore). The number of people who request (or demand) stuff from you will increase as these sorts of stories go viral.
The basic rule to consider: Is this request thoughtful? How can we benefit from this? Or is the person making the request a bully or someone just out to score free goods or services?
If the person is thoughtful, they deserve a response.
But remember, you don't always have to give someone exactly what they want. Thomas Cook UK could have sympathized with the person who shared a name with them and offered something else (even just a T-shirt) because that would show they cared.
When Dave Carroll posted United Breaks Guitars, United rightly didn't offer compensation (that would have opened up opportunities for thousands of people to demand similar treatment). But United missed a huge opportunity because they did not respond at all. Had they, for example, created their own video response (perhaps highlighting how bags are handled at O'Hare) they would have been seen as human and shared in Dave Carroll's triumph rather than being seen as the bad guys.
So if a situation like this happens to you, consider the request. Is it thoughtful? If so, respond! But respond with something equally clever.
Images via Imgur