My friend Laura Fitton introduced me to Uber a few months ago and now I am a raving fan of the service.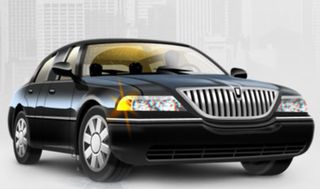 Uber is an iPhone app (it is also available on Android) that you use to book private driver service, typically in a Lincoln Town Car, in major cities. Currently the service is available in 15 cities including SF, NYC, Boston, Paris, and London.
For a passenger, you use the app to see if cars are nearby. Then you tap a button to request a ride and immediately see how long it will take for your driver to reach you (all done in real-time with Geo-location). You get a message with your driver's name, mobile number, and car license plate number. And in just a few minutes your ride appears.

So on Tuesday the beauty of Uber was in full glory for me when I arrived at San Francisco airport for the Dreamforce event. 50,000 other people were also arriving for Dreamforce during these few days and the taxi line was one hour long (I asked the people at the head of the line). The photo above shows only about 20% of the line. It was probably 100 meters long.
So I popped up Uber and five minutes later I was seated in a comfortable black car being whisked in style to my hotel. Brilliant. The real-time aspects of the app for a passenger are amazing.
Uber pricing is between a regular taxi fare and the fare for a typical telephone booking of a private car service. I paid $65 for my SFO ride to the city.
If you want to try Uber, this link gets you a $10 credit on your first ride.
What about the drivers?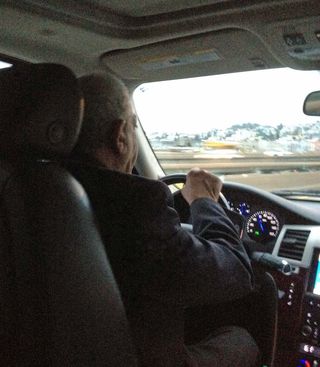 This week I had lengthy discussions with three Uber drivers to find out their side.
The drivers are independent owner-operators who sometimes use old-style telephone broker services to book business as well. The drivers are also enthusiastic. I heard the following "I love Uber!" And: "I target $300 a day from Uber and almost always hit my goal." And: "I average 15 rides a day through Uber."
The app is just as slick for drivers. If they are free, they get a beep on their phone and can instantly see that a passenger is waiting for a ride. They can choose to accept of decline the ride. If they accept, the passenger's name and mobile number are made available and the passenger's exact location displayed. When the ride starts, the driver hits the start button and then again at the destination, he terminates the ride on the app. Because the passenger's credit card number is charged and the credit made to the driver's Uber account, no cash changes hands and it is very quick. Both passenger and driver can rate one another on a 5-star scale much like eBay. Easy!
Disintermediation
Like many businesses before it, the market for private car services is being transformed by real-time mobile technology from Uber. Just like books (with instant Kindle downloads) and many other industries, real-time technology is disintermediating traditional businesses.
I can't gush enough about Uber. I just love the service.
Try Uber with this link and get a $10 credit on your first ride.
Disclosure: I too get a $10 credit for anyone who signs up with the link. But in no way did a write this post to get a few dollars. I want to share a great real-time service and provide you the benefit of the credit. But with your credit comes mine.