This is David Byrne week.
There is an important content marketing lesson to be learned from the Talking Heads front man and Rock and Roll Hall of Fame inductee, but first some background.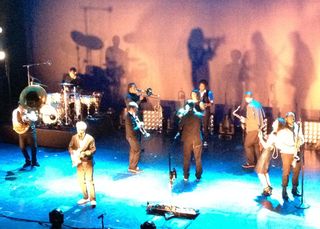 On Sunday, I caught the sensational David Byrne and St. Vincent show at the Orpheum Theater with my friend, HubSpot CEO Brian Halligan. Regular readers know I'm a mega music geek and maintain a spreadsheet with, as of this writing, 518 bands I have seen in concert since I was 16. The David Byrne and St. Vincent show was top ten. Really. It was that good.
Consulting my spreadsheet, I see the last time I saw Byrne live was when I caught the Talking Heads on August 19, 1983 at the old Forrest Hills Tennis Stadium in New York City. Here's the NYT review of that show.
How Music Works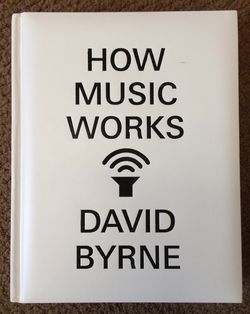 The other part of David Byrne week is his fabulous new book How Music Works. The book is Byrne's take on the industry he's succeeded in. He offers keen observations about the music industry, the art of making music, telling stories in the book using a combination of history, anthropology, and music theory. I love this book!
In particular, Byrne has a fascinating take on the development of music, which is quite different from what other music historians say. In a chapter titled "Creation in Reverse" he argues that music evolves to fill the space where it is performed.
For example, the Talking Heads evolved in the 1970s at New York punk club CBGB requiring volume to overcome the din. The sparse music that came out of the CBGB scene such as the Ramones and Television worked perfectly for that room.
Music that evolved in gothic cathedrals (lots of reverberation) has long notes with no key changes. Carnegie Hall and other similar rooms require texture. With discos, people made music to exploit the fantastic sound systems and people's need to dance. Rock music played in hockey arenas (the worst acoustics on the planet) must be straightforward with medium tempos. You get the idea. The music that is successful works perfectly for each venue.
With personal sound systems (starting with the Walkman in the 1970s then evolving into MP3 players such as the iPod), all of a sudden you can hear every single detail. This allowed pop music to evolve from its early radio form.
Here is Byrne's 2010 TED Talk on this idea: How architecture helped music evolve.
How Content Works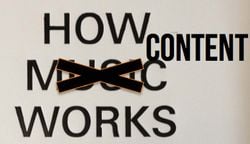 As I devoured How Music Works I was constantly thinking how Byrne's ideas apply to other forms of content. These ideas are very important for content marketers.
As I see it, success using the different forms of online content is evolutionary to the way the content is consumed. The best content evolves to fill the new media (such as blogs, YouTube videos, Tweets, photo sharing, and the like). Each new way to create content means a new form of content is best suited for the media.
This seemingly simple idea has wide ranging application for marketers and helps explain why some content succeeds and others fail in new environments.
Here are a few specifics:
Distribution: Prior to the Web, creators expected the production and distribution of content to be expensive. You had to print things on paper. You needed to buy film and develop images. You needed to pay to send your stuff in the mail or over the airwaves. With the Web, all of a sudden the cost of creation and distribution falls to zero. For that reason, the quantity of content exploded. People were much more tolerant of less than perfect content. The evolution meant that casual videos worked on YouTube and you didn't need a $50,000 production budget. Blogs without professional editors built a following. The content evolved to fill the medium.
Registration: With the sharing of long form content like white papers and ebooks, nearly all marketers started offering their stuff the same way they did offline – with a requirement that you have to register to get the document by filling out a form with your email address and other personal information. After all, marketers said, that's what we did offline. But doing that is like playing The Ramones in a gothic cathedral. The content doesn't fit the venue. When Seth Godin and a few others pioneered the offering of valuable content like ebooks completely free with no registration, a new model that fits the environment of sharing on the web was born. It turns out people eagerly share free content driving the number of views. The content evolved to fill the medium.
Instant: When Google started indexing content for Google Search in real-time, it transformed how information is found. For example, this blog post was indexed by Google the second I posted it. Yet this profoundly important concept is widely misunderstood. Because search engines used to take months to index new content people didn't have to be quick to post about breaking news. My ideas around Newsjacking were focused on how blog content is slowly evolving based on real-time indexing. Just like how music evolved with the Walkman, content is now evolving to fit with real-time indexing.
David Byrne's How Music Works is amazing. Read it. And as you do, substitute "content" for "music" and see where the ideas lead you. Share them here if you'd like.
Disclosure: How Music Works links to the Amazon Affiliate program.