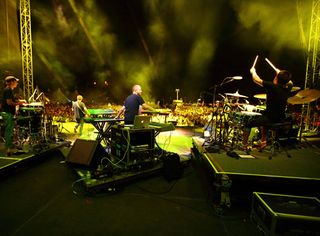 As more and more people use social networks to communicate and companies use online channels to market, its important to remember good old analog.
When we get hundreds of email messages a day, taking the time to hand write a thank you note and put it in an envelope with a stamp and mail it shows you care.
When everyone says "your business is important to us" and then puts you into phone tree hell when you call, a personally answered telephone is a surprising bonus.
I've been thinking about how quickly digital communications has become a dominate medium and how, sometimes, the good old analog approach works.
The best companies seem to have a combination of both excellent online and offline marketing and communications.
It's not just marketing either. With the rise of Electronic Dance Music, a combination of new EDM techniques with good old analog music makes for an great tunes.
Earlier this month I attended the terrific Gathering of the Vibes music festival and say the analog and digital music worlds collide in some fascinating ways. I wrote about it for the Huffington Post: Electronic Dance Music and Jam Bands Tap the Same Fan Vibe.
One musician who sits squarely in the middle of digital and analog music is Mickey Hart, percussionist for the Grateful Dead from 1967 until the band stopped touring upon Jerry Garcia's death in 1995. He brought his Mickey Hart Band to Gathering of the Vibes. His newest album, Mysterium Tremendum, fuses elements of the jam band scene he lived in for decades with today's electronic music.
"I live in two worlds," Mickey told me. "One, the archaic world of drums and drumming -- I'm strongly embedded in it, I love striking a membrane and hearing its report and playing real rhythm. And I have one foot firmly planted in the digital domain. This is such a wonderful time where science and art are now handshaking and becoming one. I am embedding the electronic worlds in which I feel comfortable into my music. I'm into pulsing and throbbing. What you're seeing now is a wonderful groundswell of binary and acoustic information coming together into new music."
You can see Mickey riffing on this theme for me in this video. He had just finished his set and was quite animated, speaking for four nonstop minutes on my question of digital vs. analog music. You might notice beer bottles around Mickey. He had set up 70 beer bottles for Jerry Garcia's 70th birthday and had been playing them with his drumsticks.
Direct link to Mickey Hart on fusing percussion and digital to make music on YouTube.
Like Mickey Hart and his fusing of analog and digital music, how are you fusing analog and digital marketing and communications?
Photo: STS9 at Gathering of the Vibes, July 21. 2012. Credit: Richard Gastwirt