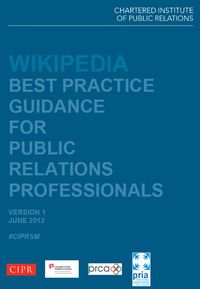 Late last week, Alan Smith alerted me via Twitter to a new guide created by the Chartered Institute of Public Relations to help public relations professionals understand Wikipedia.
The guide, Wikipedia Best Practice Guidance for Public Relations Professionals, is a free PDF download with no registration required.
This is certainly a subject that interests marketers and PR pros because Wikipedia is among the top ten most visited sites on the Web. When there is a Wikipedia article on a topic that you search on (and there are currently just over 4 million articles in English), I'm sure you've noticed that article usually appears as one of the top few results, frequently in the number one position.
Besides the CIPR guide, you might check out my interview with Colin Warwick How to create and edit articles for Wikipedia. Colin, a Product Marketing Manager at Agilent Technologies who writes the popular Signal Integrity blog is my go-to resource for all things Wikipedia.
There have been a number of very public dust ups when companies try to influence a Wikipedia page without following the site's guidelines and policies. For example, this one from Stella Artois beer.
The CIPR guide was created with the help of the wikipedian community - a very smart move.
"The Wikipedia work has been one of the most interesting projects I've ever been involved in," says Phil Morgan, Director of Policy and Communications, Chartered Institute of Public Relations . "The process of engagement with the Wikipedia community has been an eye-opener. We set out to build mutual understanding and the outcomes have challenged the assumptions that some within PR hold. No bad thing." Phil also says that the guide is a work in progress and will be updated. There is a meeting of the group of members who worked on the project this evening to discuss sustaining the engagement and they intend to develop future versions of the guidance as things change.
How to use Wikipedia for marketing and PR
The CIPR guide will get you familiar with Wikipedia's philosophies, guidelines and policies. While there are many more details in the guide, as a basic introduction, Wikipedia has three core content policies. It is imperative PR professionals understand these fully. Here is that section from the CIPR Guide:
1. Neutral point of view – All Wikipedia articles and other encyclopaedic content must be written from a neutral point of view, representing significant views fairly, proportionately and without bias. Fundamentally, where there is a contentious issue associated with a topic, Wikipedia content should be a good reference for the debate. In a few words, neutrality means this: report the debate, don't take part in it.
2. Verifiability – Material challenged or likely to be challenged, and all quotations, must be attributed to a reliable, published source. The threshold for inclusion in Wikipedia is verifiability, not truth — meaning, in this context, whether readers are able to check that material added to Wikipedia has already been published by a reliable source, not whether we think it is true.
3. No original research – Wikipedia does not publish original thought: all material in Wikipedia must be attributable to a reliable, published source. Articles may not contain any new analysis or synthesis of published material that serves to advance a position not clearly advanced by the sources.
Download Wikipedia Best Practice Guidance for Public Relations Professionals for free with no registration.