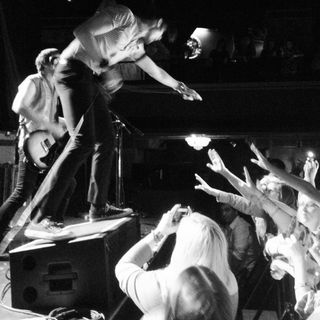 As you create products and services as well as the strategies to generate attention for your business, who or what do you compare yourself to?
Most executives have a relentless focus on the direct competition and use that as a benchmark for comparison. They look at the competition's products, price, marketing and try to do the same but with an incremental increase.
But the strategy of comparisons to your close competitor means that you are likely to become a "me too" that's just a little better, faster, or cheaper. That's no position to be in.
Microsoft tablet computer anyone?
Compare to people and companies in other industries
True leaders forget about the competition.
Many look to other industries to compare to.
For example, in highly regulated industries like pharmaceutical, healthcare, and finance, the competition is very likely to follow the pack and be fearful of engaging the market with compelling content and social media. Comparing to this market means you'd also be fearful and say "no". If all the hospitals in my area don't have a YouTube channel, why should we?
Smart marketers like Chris Boyer and companies like Inova Health System don't worry about other healthcare providers. If they did, they would say no to blogs, twitter, YouTube and the like. Instead, they look to the best of consumer products companies as their model for success.
Learning from outside your comfort zone
It's always fun when nonprofits look to for-profit businesses. Successful B2B outfits take a page out of B2C playbooks. Service business look to product companies for inspiration (and vice versa). A lawyer markets like a novelist. And a novelist communicates like a journalist.
Try to get away from the comfort of your own peer group and see what you can learn from those outside your industry.
As for me...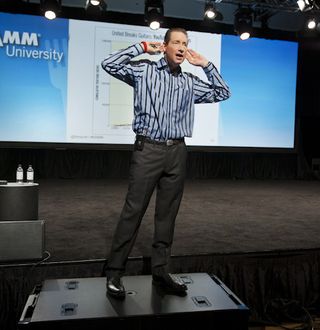 I'm a huge live music fan. I've seen nearly 500 bands live and am interested in how musicians and bands perform as well a how they market themselves. So that's who I compare myself to.
I've learned a great deal from people like Amanda Palmer and bands like the Grateful Dead.
When I go to a live show, I watch how the musicians interact on stage and I adopt some of the moves in my own live speeches.
As an example, at the top of this post is a photo I took (iPhone 4S tweaked with Instagram) of Tyson Ritter of the All-American Rejects at a recent Boston show (thanks to my friend Jodi who manages the band and invited me to watch from the photo pit). Tyson is way out front standing on a monitor and interacting with the audience.
The photo of me by Jay Blakesberg is at my NAMM keynote this year. I'm also way out front standing on a monitor and interacting with the audience.
I've got no musical ability but have always loved watching how rock stars move and interact. How cool that I can do the same but in a different business!!
I've never seen another speaker in the hundreds of events I've spoken at jump onto a monitor. I learned the move from someone outside my "competition".
Another example: I looked to the Grateful Dead for inspiration about sharing content. Learning from the Dead, I give lots of content away for free (with no email address required).
I'm convinced that by learning from musicians and bands, I've developed a more personal style than had I just copied other business authors and speakers.
How about you?
Do you copy the direct competitors? Or do you look outside your industry for inspiration?