UPDATE - May 29, 2012. This afternoon, Amanda's Kickstarter crossed the $1 million threshold, the first music project on Kickstarter to do so.
I met up with her just a few hours later and posted this Amanda Palmer freaks out to celebrate hitting $1 million on Kickstarter.
+++++++++++++++++++++++++
On April 6, 2010 after a two year fight Amanda Palmer finally freed herself from her record deal with Roadrunner Records. For the seven years prior to her label divorce, anything she had written and recorded (either solo or with her band, The Dresden Dolls) has technically been owned and under the ultimate control of the label.
Amanda knew she could do better on her own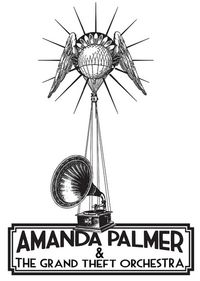 So after much planning, Amanda chose a 30-day Kickstarter to fund her new album: amanda palmer & the grand theft orchestra.
As I write this, within two days, more than 6,000 people have backed the project with an incredible $350,000. And there are 29 days to go. (Each time I refresh Amanda's Kickstarter page, the total grows.)
One fan at a time
Amanda connects with her fans every day and has built a tremendous fan base. She's very active on social networks - 550,000+ Twitter followers at @AmandaPalmer for example. Her site is a great example of a content rich resource for fans and her blog is always a great read (often with hundreds of comments on a post).
Regular readers of this blog may recall that I've written about her before in these posts: How Amanda Palmer made $11,000 on Twitter in two hours (which contains my wide ranging video interview with Amanda) and Amanda Palmer divorces her record label.
Crowdsourcing a new record and a new band
Rather than going the traditional route and having a label fund her new record, Amanda is going directly to her fans via Kickstarter.
Amanda writes: "since i'm now without a giant label to front the gazillions of dollars that it always takes to manufacture and promote a record this big, i'm coming to you to gather funds so that i have the capital to put it out with a huge fucking bang. i think kickstarter and other crowdfunding platforms like this are the BEST way to put out music right now - no label, no rules, no fuss, no muss. just us, the music, and the art. i'm also making sure EVERY PRODUCT sold through this kickstarter is unique to this campaign, to reward all of you who KNEW ME WHEN and were willing to support me from Day One."
There are packages starting at just $1 (a digital download of the album) to $10,000 (dinner with Amanda plus all sorts of extras). I dig the $5,000 level, which includes Amanda coming to your house for a party. The package I chose was a pledge of $300 and includes tickets to a VIP party and intimate show with Amanda and the band in Boston (there are similar options in other cities).
We are the media: Amanda Palmer and the future of music
In just a few days, Amanda has raised more money via her fans than she would have gotten from her label for producing her album. And she retains complete control. Who knows how much she might end up with at the end of the month?
To succeed at this technique, a musician has got to build a fan base one person at a time. Social media is a great way to connect before and after the live gig, but the personal connection is essential.
"Being a touring musician means meeting fans," Amanda told me. "I go out and meet fans after every gig. It's important to make contact in real life and not just online in social media like Twitter. If you don't meet fans in real life too, then you're a fraud. If you're not comfortable getting into the sweat with them and talking with people at shows, then how can you do it successfully online? I love connecting with fans. Speaking to people at the merchandise table after the show is great. I can stay there forever."
The future of your business
If you read this blog, you know that I am a huge live music fan. I see parallels to all kinds of businesses – including yours.
While your work may be completely different from that of a rock star, Amanda has something to teach you.
Your product comes first and must be created with passion. You've got to engage with your customers on a human level. Social networking can help you build your fan base. And if you do these things well, you can build a great company and a fantastic career.