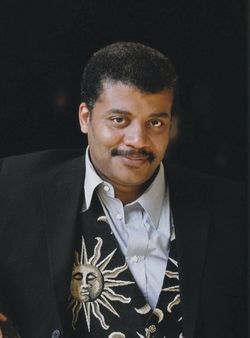 I'm a big Neil deGrasse Tyson fanboy.
Partly that's because I'm an Apollo moon mission geek and collect artifacts from the Apollo program. (Pretty geeky, right?)
But mostly, I'm a fan because Dr. Tyson is such an awesome communicator. When I read his books and articles or watch him on television, I always take away something that I can apply to my own work as a marketer and communicator.
His bio says Neil deGrasse Tyson s an astrophysicist and the director of the Hayden Planetarium in New York City. But he is so much more.
Neil deGrasse Tyson as master communicator
Dr. Tyson is so good at speaking and writing about the cosmos and why it is important for us to have an understanding of the wider world in which we live.
If you haven't heard him speak, check out Jon Stewart interviewing Dr. Tyson on The Daily Show on February 27, 2012.
In the clip, he explains how fear contributed to the development of America's space program in the late 1950s, thereby spurring economic growth. "We no longer advanced a space frontier," he says. "The Space Shuttle boldly went where hundreds have gone before." Watch the clip to see a master communicator at work.
By the way: An astrophysicist with 350,000+ followers on Twitter? What's up with that? Yep, that's @neiltyson
Space Chronicles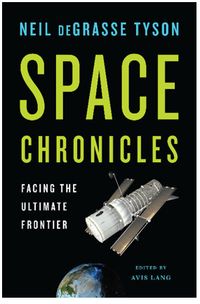 His newest book, just out, is Space Chronicles: Facing the Ultimate Frontier – a collection of essays and speech transcripts around the theme of space exploration and how America & NASA has not done much to inspire people in the past 40 years outside of some cool robotic missions and the Hubble telescope.
I read Space Chronicles in three sittings because it is that good.
In the book, he talks about how America boldly embarked on the most audacious scientific endeavor in history by sending humans to the moon. However after 9 lunar missions (6 that landed) we... stopped exploring! For 40 years we've only been to low earth orbit with manned missions.
Sure there have been some spectacular robotic missions such as Cassini to Saturn and the various Mars rovers. And the Hubble space telescope has delivered spectacular images. But humans haven't explored.
Dr. Tyson argues we're not inspiring our young people to study science and engineering and that's a problem for the economy.
"Absent such curiosity, we are no different from the provincial farmer who expresses no need to venture beyond the county line, because his forty acres meet all his needs. Yet if our predecessors had felt that way, the farmer would instead be a cave dweller, chasing down his dinner with a stick and a rock."
- From Space Chronicles.
If you want to see how thought leadership is done by a master communicator, read and watch the work of Neil deGrasse Tyson. You don't need to agree with him nor be a space geek to learn from his style.
Quick aside – In high school my buddies and I would go to the Hayden Planetarium (after some appropriate preparations of course) to see evening productions of "Laser Floyd" – a cosmic mixture of loud Pink Floyd with colorful lasers projected on the planetarium dome. I've even got a ticket stub from 1978 to prove it. Neil is close to my age. He grew up in New York City. I wonder if he went too? Nah, probably not. He was studying while I was partying. But maybe?!
Image: from @neiltyson Twitter.