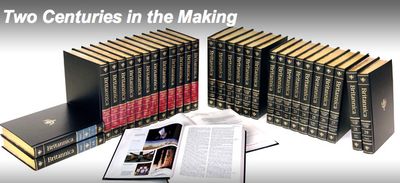 The Encyclopaedia Britannica, the oldest English-language encyclopaedia still in production, was first produced in Scotland in 1768.
The company announced it is going completely digital. If you want to pick up your very own copy, the final 2010 print set edition is available at The Britannica Store for USD $1,395.00.
Everywhere we turn there is evidence of the communications revolution.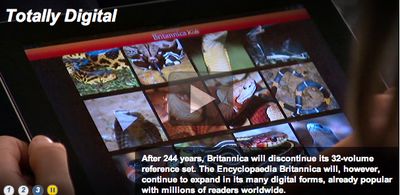 I've often said the revolution of Web content and social media is the most significant communications revolution since the invention of the printing press.
It took centuries for the world's population to become literate. But in just a few short years, of the 6 billion people on the planet, 4.8 billion have access to online information in the form of mobile data. In fact, there are more mobile phones in the world than toothbrushes.
I've been talking about the importance of online information as a tool of marketing and PR for nearly 20 years now. For the last decade I have run my own business focused on helping companies make the transition from traditional offline marketing to online marketing and PR strategies.
In 1998, people thought I was insane to argue that marketing & PR is going to the Web.
In 2002, I was that weird Grateful Dead listening oddball insisting that the revolution is coming. That's the year I got fired from my corporate VP of marketing job partly because I insisted on the Web and didn't agree on investing in print direct mail the way others in the company did. In 2002 I started my own company to develop strategies and write and speak about what the communications revolution means to marketing & PR.
In 2005, others began to realize we're at the cusp of a revolution. These pioneers fought the bosses and the entrenched powers and started to create content on the Web as a form of marketing.
In 2009, many people saw the power as hundreds of millions gravitated to social tools like Facebook and Twitter.
Now, in 2012, while over a billion people are engaged via social media and tens of thousands of organizations have a dedicated online content effort for marketing purposes. However, there are still many holdouts resisting the revolution.
Encyclopaedia Britannica print set discontinued after nearly 250 years
In a New York Times blog post, Jorge Cauz president of Encyclopaedia Britannica Inc. was quoted as saying: "It's a rite of passage in this new era. Some people will feel sad about it and nostalgic about it. But we have a better tool now. The Web site is continuously updated, it's much more expansive and it has multimedia."
Exactly.
So here are a few questions for you:
How much effort are you putting into producing brochures and other print materials?
How about those print advertising efforts?
How's that print direct mail campaign going?
What's the budget for Yellow Page ads?
We're in the middle of a profound communications revolution.
Are you on the leading edge? Or are you clinging to the way we communicated in 1768?
Images via britannica.com