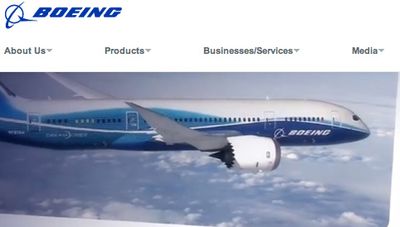 Back in May, 2010 when Boeing embarked on a fledgling brand journalism program, I interviewed Todd Blecher, Communications Director, for a blog post I titled The Plane Truth: Brand journalism and the new Boeing site.
Since then, I've been using Boeing as an example of an organization that is creating great content but until yesterday I had never met Todd in person.
We both spoke at the Purina Digital Summit "Feeding the Beast" event in St. Louis. What a perfect tag-team: I talked about how companies can create excellent content and how journalists make excellent content creators (print journalists, photojournalists, and broadcast journalists) because they are skilled storytellers, then Todd outlined how he is doing it at Boeing. Todd and I are both looking forward to Purina taking up the ideas for their marketing programs.
Brakes on Fire!!
For a great example of the sort of content that Todd and his team create, check out this video Boeing 747-8F Performs Ultimate Rejected Take-off where a fully-loaded 747-8 Freighter with worn-out brakes attempted an aborted takeoff on a California runway. The rejected takeoff or maximum brake energy test is one of the most dramatic for a new airplane. The resulting video has 680,000 views as of this writing. The video is great because it is not a product pitch. Rather it is branded content that people want to consume and that shows Boeing in a great way.
"We publish content that supports business objectives and fosters positive opinions about Boeing," Todd told me. "We're not (directly) selling planes. We're selling Boeing."
Todd understands that brand journalism is not a product pitch. It is not an advertorial. It is not an egotistical spewing of gobbledygook-laden corporate drivel.
Interestingly, many Boeing communicators were former reporters. Todd himself was a former real-time wire service journalist at Bloomberg News who now among other duties manages the @Boeing Twitter feed.
Effective brand journalism is about telling stories. Like newspapers, magazines, and television news reports, Boeing brand journalists publish their by-line with their reports. This shows that real people are behind the stories.
I also like that Boeing's reports end up serving as fodder for the media. They repurpose content all the time, promoting it via social media the Boeing site, on YouTube, Facebook, and Twitter. And they pitch their homegrown stories to the media.
Here's a quick discussion with Todd on how brand journalism is done at Boeing.
Direct link to Todd interview on YouTube.
Thanks Todd. Keep up the good work.