Have you noticed that nearly all hotel websites are exactly the same?
There's the photo of the property on the front, the "reserve a room" widget usually in the top left and a bunch of boring, superlative language. Basically the sites are interchangeable. I just booked a hotel in California for later in the month and the three hotels I considered looked like they had all been designed by the same agency.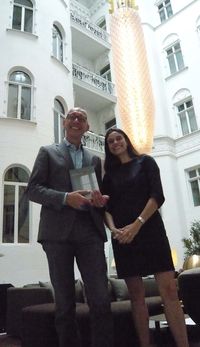 Several months ago I stayed at the Nobis Hotel in Stockholm. I made the choice myself based on - you guessed it - the site. This hotel website seemed different.
That difference continued as my wife Yukari Watanabe Scott and I checked in and explored the property. It seemed so perfect that we had to find out why. So we met with Ana Maria Nordgren and Oliver Geldner to learn more.
Nobis Hotel buyer persona
Oliver told us the buyer persona of the people they attract to the Nobis are frequent travellers who are sick of sterile chain hotels and want something different. They make their own decisions on where to stay using the web and social media. Buyers want upscale luxury but in a modern style, not the old-world traditional style.
As Oliver is going through this with us, I stole a glance to my wife. "That's us!" I almost shouted. How cool that we were actually attracted to the hotel based on buyer persona created by Oliver and his colleagues!
The persona of the Nobis Hotel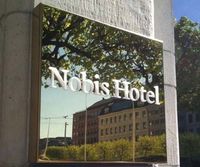 The most fascinating story that Oliver told us about Nobis Hotel marketing was the persona they use when they communicate for the hotel on social networks like Facebook. This is what Oliver told me is the Nobis persona he uses on social networks:
"The Nobis Hotel is a grand old lady who lives in a vast apartment in Stockholm. She's a dame of means. She has a cocktail party starting every day at 11:00 am and is slightly tipsy by 5:00 pm and that is when she is communicating to you via social networks as a friend.
The Nobis is a Swedish hotel, but she insists on communicating in English even though the majority of guests are Swedish.
She has a sense of humor and has interesting things to say. She wants to be relevant, have a sense of humor and not take herself too seriously."
*** WOW!! How cool is this description??!! ***
Storytelling at the Nobis
Here are a few short stories I pulled from the Nobis Hotel Facebook page. I can see the slightly tipsy grand old dame writing them:
"Animal question of the week: 'I am travelling with a duck, and would need a room with a tub'. I can't wait to see the cleaning ladie's face when she comes in to make up the room ! Well at least today we got nice weather, for ducks..."
And this:
"Note to all parents of 3-old boys: there is a subtle but very distinct difference between peeing in the steam room and peeing into the steam room. The first can be the sign of an emergency, the latter is a signal you might have a hooligan on your hands...."
Isn't this fantastic! Can you imagine a big chain hotel communicating like this on social networks? Not a chance!
Amazing way that the Nobis looks for words and phrases that are important for their business.
Oliver told me that he does a semantic analysis of the Nobis Hotel listings on travel review sites such as Trip Advisor to find out what words and phrases visitors use in their reviews. These are then used in Nobis marketing.
So rather than make up their SEO terms they actually use the terms like "beautiful modern hotel in Stockholm" that people use in social networks as their SEO phrases.
Love it!
Offline content marketing at the Nobis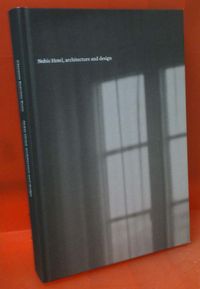 Amazingly, the Nobis Hotel published a book! There is a copy in each room and in the common areas. I thought it was so cool that I purchased a copy.
The hardcover book explores how they created the hotel all the way down to fine points like the typefaces of the written communications and the furniture and fabrics used throughout.
There is a section of the book talking about the original building which was a bank made famous by the robbery and hostage taking that came to be known as The Stockholm Syndrome.
Oliver told us it was not conceived as a marketing book but rather as a way to tell stories about the choices of what materials and designs were chosen and why. They did not create what Oliver would call "an artificial brand" but instead focus on the actual stories of how the hotel was built and the book shows all of that to guests like us.
As a marketer and author I found the book fascinating and had never seen anything quite like it.
Content marketing even offline!
Thank you Oliver for taking the time to share what you are doing at the Nobis. In a world of sterile and boring marketing, you are doing it right. Keep up the great work.