UPDATE - On the evening of December 1, BMW of North America responded to the issues I highlighted in this post. Do make sure to read what they said (11th comment down).
+++++++++++++
Many years ago I opted in to emails from BMW because I wanted to get notice when they released short films in their excellent series. For example, I liked The Star featuring Madonna and directed by Guy Richie. At the time these films were a new and exciting form of online marketing and I wanted to know when new ones came out. I wrote about BMW's use of video on my blog back in 2007 and included a mention in one of my books.
Gradually over the years my email address seemed to be added to BMW sales lists as well so I opted out of all emails from BMW last year.
Like most people, I am on a bunch of lists that seem to grow like weeds. Every time I buy something online, I'm added to a new list. I frequently opt out and that's the end of it, but I do not keep a tally of opt outs. There are too many and most companies simply honor my request and stop sending me email.
I distinctly recall opting out of BMW emails so it was strange to me based on my habits that I would mysteriously be added back somehow against my wishes.

So when I again received an email from BMW in November 2011, I opted out again but this time I kept a screenshot record showing I opted out from all items in their list.

The opt out itself was very convoluted. I clicked an UNSUBSCRIBE link on the email and got a sort of "Communications Preferences" error notice followed by an automated email linking me to a place where I could push buttons to opt out of each type of mailing. Click the thumbnail to see what I did.
Note that I do not own a BMW so there is no other way I can think of where I would have been added to their lists.
After that opt out, I again got an email from BMW!

This one was from BMW of North America with a subject line "Shop BMW gifts on Cyber Monday." This email most certainly arrived after I expressed my preference to receive no more emails and recorded the attempt.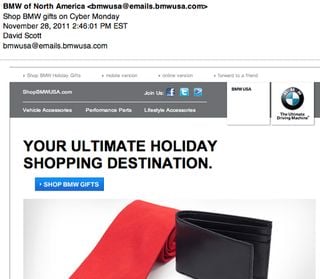 Perhaps there is an explanation and if so I would love to hear it.
Maybe there are many different lists for BMW and they require different opt out methods (this one was from BMW of North America)? Perhaps it is user error and I did something wrong several times in a row? Perhaps their system takes many days to process requests and I need to independently opt out of each type of mailing (silly in a real-time world but possible)? I really want to give them the benefit of the doubt.
Even if there is a good explanation for what happened to me, I would like to suggest that as a company that prides itself on quality and engineering, BMW is failing with their marketing.
I wanted to see BMW videos and ended up being hit up to buy Holiday gifts from BMW.
Email marketing is a certainly a component of quality and engineering, and BMW need to re-think how they communicate. The 4 step opt out procedure itself is sort of stupid and the fact that it doesn't actually opt me out is unacceptable.