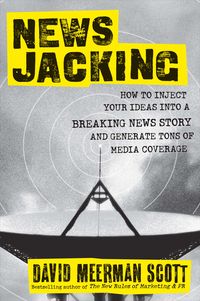 On November 14, 2011 I introduced my new book Newsjacking to the market.
One of the challenges of my work is that I write and speak about strategic marketing. I have to admit something right here: I obsess over the use of my own marketing strategies to market my work. Heck, if I can't launch my own book, how good are the ideas, right? I was under pressure.
In order to generate the most excitement around Newsjacking, I chose to do some particular things that I hoped would help to launch the book with excitement. These are the ones that worked well for me and that I would do again in the future.
I'd suggest that these techniques should be used at launch to get people to discuss any new product in social media. It is not just for books.
1. Don't talk too early.
I chose not to talk about the book ahead of time. In fact I never used the word "newsjacking" anywhere on the web prior to November 14, which was launch day. I find that people have short attention spans. If I say "a book is coming" but people cannot actually read it, few will act. So I chose to keep quiet.
2. Choose a memorable name.
The title I used - "Newsjacking" – had been used before by people like Urgent Genius but it was not very popular a term, especially outside the UK. Most people were hearing the word for the first time and it was memorable to them.
3. Inject some controversy.
The concept of newsjacking feels like a black hat technique to many people and some wondered if it was ethical. (Newsjacking is perfectly legitimate, as I do explain in the book). But that sense of perceived negativity is a powerful tool to get people talking. John Jantsch wrote Is Newsjacking a Legitimate Tactic? And Erica Glasier wrote Ethical question: Is newsjacking black hat? These blog posts were tweeted hundreds of time, spreading the ideas in the book.
4. Seed the market.
I gave an early heads up (about 24 hours notice) to a few friends so they could prepare blog posts that ran on my launch day.
5. Have a news hook and newsjack.
I chose to launch Newsjacking, which is in e-book only format, on the same day that the new Kindle Fire launched. My goal was to newsjack the Kindle Fire announcement and that tactic actually worked because writers for publications such as the Vancouver Sun, Forbes, and MediaBistro talked about my book in context of the new Kindle Fire.
6. Respond to people in real-time.
I did my best to comment on each of the dozens of blog posts about Newsjacking in real-time, I also tried to react to as many of the thousands of tweets as I could without cluttering my stream too much. It was exciting to participate in the launch this way.
7. Don't forget international markets.
I woke up very early to interact with people in Asia, the Middle East, and Europe. And I checked in again in the evenings to connect with Australia and New Zealand. I was psyched that people wrote about the book in many markets and found blog posts in multiple languages including Japanese, German, and Dutch.
8. Measure, report, and improve.
I measured via TweetDeck, TweetReach, and Google to see how the Newsjacking meme was spreading. I reported the progress to my publisher so they could help push things along and when possible, I tweaked what I was doing to improve. Note the takeup of the meme "newsjacking" in just the 48 hours after my launch as measured by TweetReach (below).