Yesterday evening at the Direct Marketing Association's annual conference DMA2011 (theme: "The Global Event for Real-Time Marketers") I participated in an executive dinner event with SAS customer analytics clients where we had an interesting discussion about real-time marketing.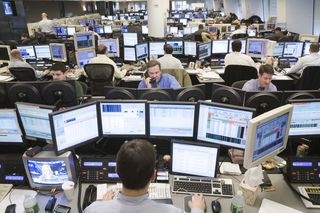 I talked about real-time marketing in the context of my experiences early in my career working on a Wall Street bond-trading desk. I suggested that companies of all kinds consider hiring people in the marketing department who have the skills of a bond trader. My radical idea is that marketing departments need someone who lives and breathes real-time.
As they pore through data and news, traders are poised, ready to commit huge sums of money when the moment is right. They peer intently at the Bloomberg screens displaying bond prices the moment they change. Data from futures markets and stock exchanges update the instant a trade is made. They know exactly what securities are in their portfolios at any given second. Speed on the trading floor is crucial.
Technology has already transformed financial trading into a game where instant information informs split-second decisions worth millions of dollars.
Real-time technology is now transforming marketing too
However it is rare to see the skills of instant analysis and action hired for in marketing departments. For example, I almost never see "strong analytical and quantitative skills""or "ability to learn, think, and react quickly" in marketing job descriptions.
As we were talking about companies that have some true real-time marketing, two examples emerged in the discussions:
Airline real-time dynamic pricing
If you've ever purchased air tickets online, you know that the pricing seems almost random. There are many different price points from full fare first class to deep discount economy. You can look at one moment, see a fare, have lunch and the fare has changed. The airlines use real-time dynamic pricing.
What's interesting to me as a frequent business traveller (100,000 miles or more for several decades) is that most planes fly full. The airlines have gotten so good at pricing seats in real-time and maximizing revenue on each flight. They know things like seasonality, what seats sold at what price on a minute-by-minute basis, and each flight is priced individually and always dynamically updated in real-time.
As an interesting aside, the same industry – airlines – that are absolutely real-time at pricing can be Neanderthals when it comes to real-time customer engagement. Remember United Airlines non-response to United Breaks Guitars?
Amazon.com real-time ecommerce site
Amazon.com is another example of true real-time. The site dynamically updates constantly, feeding visitors information based on things like Amazon sales ranks in hundreds of categories updated hourly. You're presented with information based on what other customers have looked at, your recent purchases, products you've looked at and much more. Amazon processes billions of data points all in real-time and builds the ecommerce experience based on that. No wonder they are so successful.
As you think about real-time in your business, understand that while technology plays an important part, the skills of those in your marketing department need to change. Hire people with the skills of a bond trader. Hire PhDs in applied mathematics, hire chess champions.
While "creative" is still important for marketing, it's not as all-powerful as years past.
Trading floor photo courtesy of Jeffries & Company