Earlier this week, I wrote a blog post titled QR codes deliver buyers in real time. In comments on the post as well as via Twitter, Facebook, and Google+ a few people mentioned that QR codes are not very popular. In fact, some said that many people don't even know what they are or how to use them.
While I do agree that the average person wouldn't know what a QR code is, I also recall in 1995 when web site URLs started to appear in offline advertising and again in 2008 when Twitter IDs started popping up, people didn't know what they were either.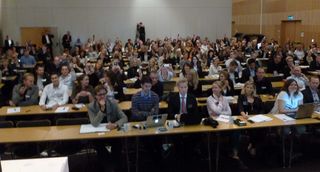 I wanted to get a data point, so this morning at the Email Marketing Evolved conference in Stockholm, Sweden where I delivered the keynote, I asked the international audience of about 250 how many of them have a a smart phone with a QR reader. It was about 30%.
Now, I'm not advocating that QR codes will have the same uptake as web sites or Twitter, I do think for the geeky among buyers, it is probably worth adding a QR code when possible.
Here are ten examples of QR codes for real time marketing.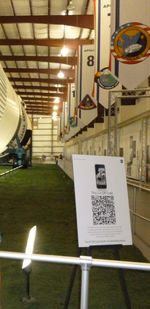 1) B2B companies can hand out postcards at the tradeshow with their logo on one side and a QR code on the other with some minimal text such as contact information and a short company description. The QR code is for follow-up content delivery instead of the huge dead tree information packs that so many companies lovingly hand out only to be discarded by booth visitors at the next trash can.
2) Speakers at conferences can pop up a QR code on a slide to point audience members to supplemental information to be downloaded. This makes dissemination of the slide deck and other handouts simple.
3) Consumer marketers can add a QR code to offline advertising including magazines, newspapers, subway and bus placards and the like.
4) Restaurants could have a QR code so people can go from their yellow page telephone listing to a menu.
5) Doctors, dentists, and vets could hand out a QR code on a card that corresponds to different medical conditions so patients can independently learn more about illnesses.
6) Physical therapists, personal trainers, and chiropractors can create videos on how to properly do exercises at home and pass them along to customers so they can safely get in shape.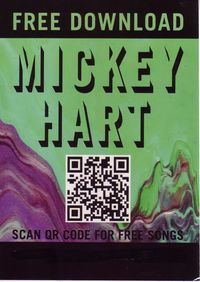 7) Museums and art galleries can have a QR code for each of the major artifacts or artworks pointing people to more information on each. Some already do this such as Johnson Space Center in Houston (see the image I shot last weekend of the QR code for the Saturn V rocket displayed there).
8) Rock bands can offer free music downloads to fans at gigs. Mickey Hart does this. At a Rhythm Devils gig this summer, he passed out music download cards (a bit larger than a business card) with a QR code for free tunes.
9) Businesspeople could have a QR code on your business card that links to your blog.
10) If you're a single who wants to meet geeky people at bars, you could wear a QR code pin that then sends prospective dates to some interesting web based information site about you. I know I'm pushing it here, but I want to get you thinking!
How about you? How have you used QR codes?
Image below of a restaurant offer banner with QR code shot at my local mall.