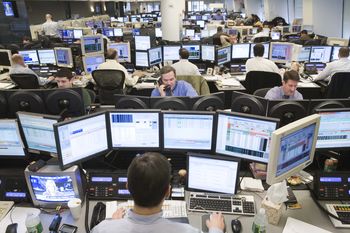 Way back in 2007, I offered a radical idea for CMOs: Hire a journalist. This idea, which I talk about in most of my live presentations was a response to many executives who wanted to know how to implement the ideas in my book The New Rules of Marketing and PR.
"How do I create great content?" CMOs asked. "Hire a journalist!" I answered, calling the idea Brand Journalism.
Many companies have done just that. Bob Evans moved from InformationWeek to a Brand Journalism gig at SAP. Ben Edwards, now VP Digital Strategy and Development at IBM was Tokyo bureau chief at the Economist. It's not just print journalists: Kathy Saenz, a former broadcast journalist at a FOX affiliate now creates videos and other marketing content at INgage Networks.
Now, as I talk about the ideas in my book Real-Time Marketing & PR, I face a similar question from CMOs: "How do I get started with real-time marketing?" CMOs like the idea of real-time engagement, reacting instantly to what's happening in the market, following up on opportunities in seconds, and inserting their company into stories being reported by mainstream media.
CMOs are confused about what to do because they recognize that the people who work for them are skilled at long-term campaign creation but lack skills of instant engagement.
Hire a bond trader in your marketing department
My radical idea is that marketing departments need someone who lives and breathes real-time. What better person than a bond trader?
My first job was on a bond trading desk in the 1980s and I lived this intense second-by-second life for a few years. I still apply what I learned on Wall Street two decades ago every day as a marketing strategist. You can hire those skills too.
(Yes, the trader you hire could also be another type of financial markets trader such as foreign exchange, stock, or commodity trader).
Here are some of the qualifications for bond trading: Strong analytical and quantitative skills; assertive and entrepreneurial nature; ability to learn, think, and react quickly; keen attention to detail; strong familiarity with business computer applications; high stamina levels and a hunger for learning; confident, poised, energetic, and willing to make personal sacrifices.
These are not typically the skills hired for in marketing departments! For example, I never see "strong analytical and quantitative skills" or "ability to learn, think, and react quickly" in marketing job descriptions.
So what would someone with a bond trading background do at a company that's not in the financial business?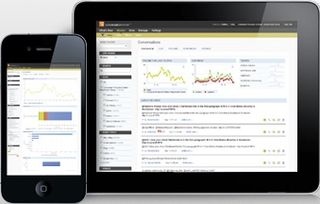 Your bond trader will be in charge of your real-time analytics.
The trader would monitor what's being said about your organization in real-time using social web analytics and what's happening on your web site in real-time using web analytics.
As I travel the world speaking with CMOs, many tell me that they have already invested in social web analytics packages from companies like Converseon, Dow Jones, and Radian6 and website analytics from players like Google and WebTrends. But many of those same CMOs put exactly the wrong people in charge of the applications. They tend to assign junior marketers (who are skilled in long term campaign management) to the task. These people just don't have the instant analytical brainpower that a trader does.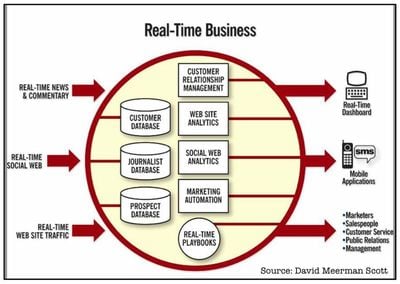 Your trader will prioritize things for response and assign to the right people.
As buyers interact with your website, a trader would be responsible for gathering sales leads and assigning them with priority metrics (such as "hot lead") and generating instant responses while alerting the appropriate salesperson. Data shows that sales leads that are responded to within one hour generate 7x the conversions of slower responses. The first blog comment on a post is more likely to be cited. Hell, the first to ask a question to President Obama gets it answered. Speed matters.
Your trader will manage your Facebook Wall and your Google Plus stream.
Usually, the trader would respond as appropriate, but when issues need to be surfaced to others in the organization, he would do that too. Sadly, most Facebook pages and the emerging Google+ pages are not responded to quickly enough. People who take the time to interact want instant feedback.
Your trader will prepare detailed analytical reports for the executive committee and board.
Many CMOs provide data to the management team and board, but typically those reports include monthly press clip books, long term campaign metrics, and focus group data. Rarely do the reports include detailed discussions on what's happening on a second-by-second basis.
I know that hiring a bond trader is a radical idea. I get that. There are so many other places that you could use the help. Four years ago, when I talked about hiring a journalist into a marketing department that was also radical. But today, hundreds of companies are making that hire.
This is likely the first time you're hearing about hiring a bond trader into your marketing department. I hope that you give it some consideration.
I'd love to know of any former bond traders working in marketing departments. The closest I've found in implementing these ideas (although he was not a trader) is Dan Zarrella who is social media scientist at HubSpot. He has a Webinar The Science of Social Media on August 23, 2011 and it looks fascinating.
From where I sit, hiring a trader seems obvious. Does it to you?
What do you think?
Trading floor photo courtesy of Jeffries & Company
Social web analytics image via Converseon
Real-time business diagram via my book Real-Time Marketing & PR: How to Instantly Engage Your Market, Connect with Customers, and Create Products that Grow Your Business Now, a Wall-Street Journal bestseller