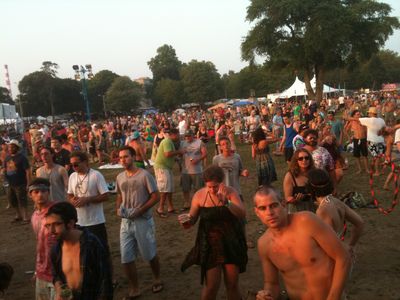 I've enjoyed creating this week of blog posts centering around live music, a passion of mine.
Today we talk about how brands engage with live music fans. I've had several conversations about this with my friend Jay Blakesberg.
Jay is a well-known rock photographer who has shot rock royalty for more than 30 years. His photographs have appeared on numerous album covers, in Rolling Stone, and many other publications. He also produces video and other content for brands and bands.
Jay's photos appear in my book Marketing Lessons from the Grateful Dead: What Every Business Can Learn from the Most Iconic Band in History which I co-wrote with Brian Halligan, CEO of HubSpot.
People like me are passionate about music. We make live music an important part of our lives. Being the geek that I am, I have a database with a listing of 436 live gigs I've caught since 1976.
The challenge for companies is to tap into this passion. There's a music lifestyle for brands to engage with, if they are clever about it. Music can connect a brand through mobile, the web and social media.
In this video, I speak with Jay about his ideas for social media engagement, especially with Facebook. It's simple really – if you create some great content, fans will share it. Better yet, the bands will share it with their fans! Some artists have 100,000 or even 1,000,000 Facebook fans.
The power of the Facebook share worked for me just this week. On Tuesday, I posted as part of this summer music series: Do what you love which included my video interview with Grateful Dead percussionist Mickey Hart. Well, Mickey shared my video on Twitter and on Facebook (where more than 60 people "liked" it in just one day). This drove a bunch of views to the video and gave people I didn't know yet exposure to my book Marketing Lessons from the Grateful Dead. How cool is that?
Direct link to Jay Blakesberg on how brands engage with live music fans on YouTube.
Summer Music Series
Photograph shot at Gathering of the Vibes 2011. Copyright David Meerman Scott