Yesterday, my wife Yukari Watanabe Scott and I dropped our daughter off for her freshman year at Columbia University in New York City.
We arrived in the city a few days early because of the impending arrival of Hurricane Irene. We "camped" in a hotel room as the storm approached and then passed by, venturing out a few times when it was safe. It was a fun bonding weekend for the three of us prior to the start of our daughter's university career (and our life as empty nesters).
I was considering the logistical nightmare faced by Columbia University. Officials needed to get well over 1,000 incoming freshman into their dorms in less than day at an urban campus in one of the largest cities in the world on the day after a major hurricane.
To be honest, I was imaging snarled traffic on Broadway at 114th street and chaos in front of and inside the dorms. I was mentally prepared to wait for hours.
Efficiency as a marketing asset
Yesterday, Columbia University was the most efficient outfit I've seen in years. It was an amazing thing to experience. As a marketing attribute of the school, the manner in which they handled incoming students yesterday was A-plus.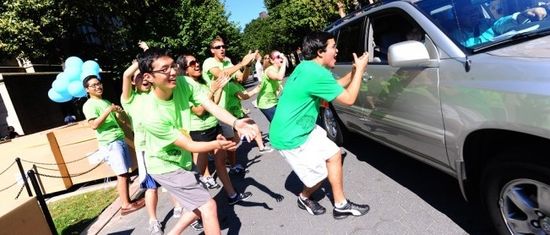 1) We pulled our car up in front of the dorm and upper-class students in green T-shirts cheered and waved and welcomed us while we were still in the car. Before we had even opened the car doors, someone wheeled up a bin for her stuff.
2) Our daughter had uploaded a photo to the Columbia site weeks earlier, so her University photo ID card (which doubles as her room key like a hotel) was waiting for her at a table nearby. It took less than one minute to get the ID. Let me repeat. It took less than one minute to check in to the university.
3) We unloaded the car with the help of the volunteers and loaded it into her bin. This took another minute.
4) I was directed to a parking garage a few blocks away.
5) Yukari and our daughter (with the help of an upperclassman) pushed the bin on wheels with her stuff to the dorm entrance and waited for a minute for the elevator.
Total time from pulling up to the curb to entering her room was five minutes. By the time I got to the room about ten minutes later after parking my car, her bed was already made!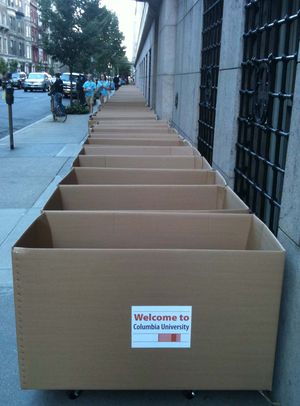 I'm just dumbfounded by the efficiency.
Columbia University's efficiency at check in makes me feel better about paying the bills. It makes me confident that we have chosen a great place for our daughter. And it is a remarkable story worth repeating as I am doing here, serving as valuable marketing for the university.
Incidentally, we passed another well-known NYC school and witnessed hundreds of students and parents waiting in a line several blocks long, in the hot sun, with luggage, sporting equipment, musical instruments, and bedding scattered along the sidewalk. The "competition" was way less efficient and, if I may say so, some parents looked pissed.
Are you efficient?
When I think of other organizations and efficiency, a few personal experiences come to mind as consistently positive: Apple stores, FedEx, Five Guys Burgers, the First Class check in at American Airlines in Boston.
When I think of inefficiency, many other companies come to mind.
I had never really considered the importance of efficiency as a marketing attribute. But it certainly is.
People don't always buy the cheapest or fastest or biggest or most famous.
Some might buy the most efficient service.
Photo of wheeled bins by David Meerman Scott.
Photo of arrival and logo courtesy of Columbia University website.