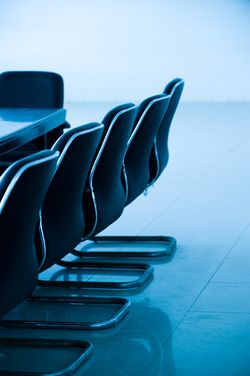 I enjoy sitting in Aeron chairs eating catered tuna sandwiches and drinking designer water in corporate conference rooms as much as anyone.
Your company conference room is not where marketing strategy should develop.
You've got to get out into your marketplace and meet with potential customers who have the problems that your organization can solve.
Do you sell surfing gear?
Meet people at the beach to find out what they're into.
Do you work for a B2B technology company?
Have discussions with both the technology buyers as well as the business owners who can benefit from what your technology can do.
Are you a lawyer?
Run a free seminar at your local library and find out what people are interested in and talking about. What words and phrases do they use to describe their problems?
Do you run a nonprofit?
Get out there and connect with those who share a passion for your cause.
MSU behavior
Sitting around a conference room with your colleagues and agency partners results in groupthink that's usually not tied to the realities of the marketplace.
I call this MSU which stands for "making stuff up" - you can substitute another word in the "S…" position if you're less polite than me.
Here's a video interview with me that was shot a few years ago for the Cisco Service Provider SP360 Community where I discuss MSU behavior.
Direct link to the MSU YouTube video here
It's easy to dream stuff up. It's tough to learn those marketing nuggets that people will react to.
Here are a few ways to personally connect with your buyers:
Visit people in their offices.
Perhaps you can mine your lead database for people to contact in your area. (Don't approach people in the sales cycle though - you don't want to piss off the salespeople). You don't want to meet with existing customers because they already know you and won't give good data. You want potential customers. When you contact them, say "I am in marketing, not sales. I won't try to sell you anything. I want to learn about your business."
Go to the conferences that your buyers go to.
Go as a delegate, not as a vendor. Sit in on the sessions. Meet people at the breaks. Ask other attendees open ended questions like: "What have you learned here that surprised you?"
Watch the Webinars that your buyers watch.
Monitor the Twitter hashtag and find some interesting people and reach out to via Twitter.
Read the books that your buyers read.
As much as I hate to say this, you'll learn more about how to market to your buyers by reading the books that they read than reading a marketing book. Yep, that may sound silly from someone who has written a bunch of marketing books. You might look for people who have reviewed the book on a blog and reach out to them. (Once you understand your buyers' problems and how you can solve them, THEN you can read my books!)
Get out there! (Your competitors probably aren't).
Image: Shutterstock / hxdbzxy