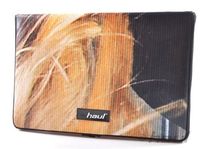 Last month when I was in Melbourne, Australia my friend Trevor Young introduced me to Scott Kilmartin, the CEO of haul, a company that makes what I think are the hippest MacBook sleeves in the world.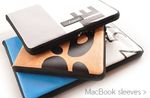 The sleeves are made from recycled billboards. This is true pop culture. No two are the same (great for conferences so you don't mix yours with someone else's). I've got several of them. haul has many other products too such as iPad sleeves, luggage tags and messenger bags and all are made of recycled materials.
Scott has a fascinating marketing strategy at haul.

His dog, Gus the Boxer, is a true ambassador for the business. @GustheBoxer has 1,700 Twitter followers, 1,000 Facebook fans, a Website, an email address, and a Foursquare profile. He's a media star and a popular figure in the area.
I asked Gus if he'd explain to us what he's up to and how he helps the business. Of particular importance is Gus' tips for social media success – make sure you read them at the end of the interview. (Note: Gus' answers were interview was transcribed by his PA.)
David Meerman Scott: Gus, what exactly do you do?
Gus: "I used to be just a local dog minding my own business and stealing sausages when no one was looking. Then I started doing some work for haul in Fitzroy (a dog has to earn his keep after all).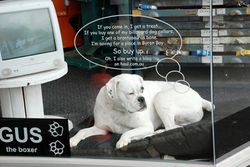 haul was in need of my help all over the business (in fact if I hadn't stepped in I reckon haul would have gone bottom up). I installed myself as greeter in the retail store and incentivized myself to convert lookers into customers.
My main role these days is Personal Shopping Assistant. Because all the haul products are made from billboards and printing blankets they all have individual designs on them, which means loads of choice for customers. Sometimes there is too much choice and they ask for my guidance."
DMS: What's it like to be a celebrity?
"I'm used to it now. In the early days I couldn't handle being stopped in the park and asked for paw-o-graphs whilst playing with the ball.
But now I accept that punters are going to wake me up when I'm snoozing in the front window for a photo.
My manager sat me down (no he didn't say "SIT") and said after appearing on the homepage of a big newspaper in Australia my life would change."
DMS: Is fame all bitches and baubles like 50 cent would have us believe?
Gus: "Look I'm not gonna lie to you - I like the recognition - but I do try to use my fame for the greater good. When I was approached to do a Calendar for a pet hospital I thought not all dogs get to live the rockstar life I do so I should use my celebrity for less privileged dogs out there. Sometimes I use my Facebook wall to help out other woofers in need. I even tried to get elected into Parliament but missed out by a nose."
DMS: What have you learned by being on Facebook, Twitter, Foursquare and other social networks and what can you teach us about social media success?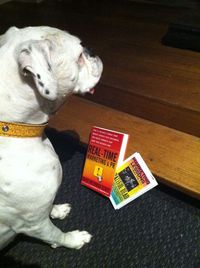 Gus: "I started tweeting back in 2008 and was on Facebook about the same time. It was fairly lonely at the time but I knew my work would pay off.
I'm now global and followed by humans and dogs alike. Foursquare allows me to get to the front of the water bowl queue at my local cafe - because I am mayor."
DMS: I hear you've got a beef with LinkedIn. Do tell.
Gus: "I'm not happy with LinkedIn. I was building up a nice little network and then they booted me off.
I think LinkedIn is 'doggist' and should be boycotted. I am a professional and deserve to be treated as such. It's embarrassing when someone messages me wanting to 'add you to my professional network' and I have to explain no dogs are allowed."
Gus' tips for social media success.
You hear lots of talk about being human. I say don't, it's over rated.
Times have changed. People do know you're a dog on the Internet these days!
Celebrities love other celebrities and only seem to talk to each other. I think this is lame. I see myself as a dog of the people.
Be careful with Foursquare. I've been mobbed a few times when I've checked in and they come from everywhere. Be careful out there kids.
People love pictures to tell stories, give 'em some. If you are not handsome like me, however maybe use a fuzzy lens.
Cautionary tale: Remember what you say may come back to bite you if you're a character like me.
Thanks so much Gus. Here's to your continued success.
PS - check out Chet the Dog - I blogged about him as well.